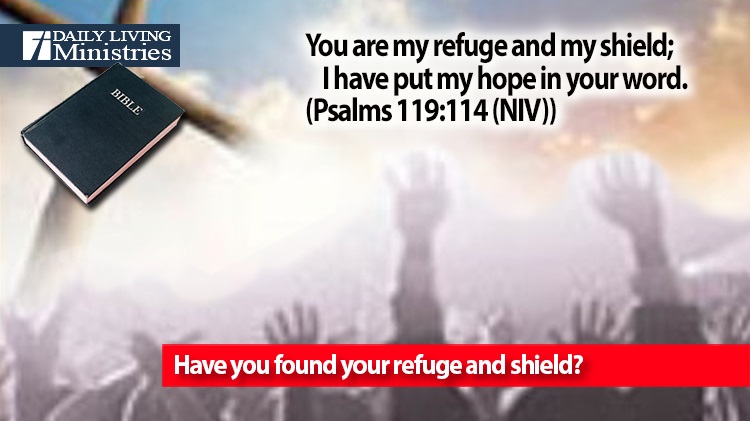 Be Still . . .
Devotionals for Daily Living ©
You are my refuge and my shield;
    I have put my hope in your word.
(Psalms 119:114 (NIV))
This passage is sandwiched right in the middle of two very interesting passages.
I hate double-minded people,
    but I love your law.
(Psalm 119:113 (NIV))
The Psalmist starts off with what he hates, but quickly counters with what he loves. He lays open his heart to the Lord by describing the things that he wishes were not around him. He then quickly counters this with the very thing that he longs to always be in the midst of.
Away from me, you evildoers,
    that I may keep the commands of my God!
(Psalm 119:113 (NIV))
Again, we see that the Psalmist longs for evil to be completely removed from his presence so that he can focus on God and His Word.
Nestled between these two verses is a passage where the Psalmist opens up his heart completely to the Lord. In the midst of double-minded people, he takes refuge in the Lord. In the midst of evildoers, he keeps the commands of the Lord. He is not swayed by those who are double-minded and those who do evil. He keeps his eyes firmly on the Lord.
With all that is happening in the world today, do you hate those who are double-minded? Do you desire to flee from those who do evil? Do you long to find refuge in what you love? Do you long to walk humbly in obedience to God's law? Do you turn to the Lord for shelter and protection? Is your only hope found within His word?
Think about what the Psalmist was portraying in these three passages. He is surrounded by evil, yet he finds complete shelter and hope in the midst of these things by focusing only on the Lord. It doesn't matter what comes before or what comes after. He is safe and secure in the midst of all troubles because he trusts in the Lord. Is that what you desire when you find yourself in the midst of double-mindedness and evil? Is this what you desire when the whole world is falling apart? Is this what you desire even when things are going good? Have you found shelter in what you love?
Have you found your refuge and shield?
Copyright 1998 – 2022 Dennis J. Smock
Daily Living Ministries, Inc.
http://www.dailylivingministries.org
Support Daily Living Ministries
Subscribe to daily email delivery
Visit us on facebook