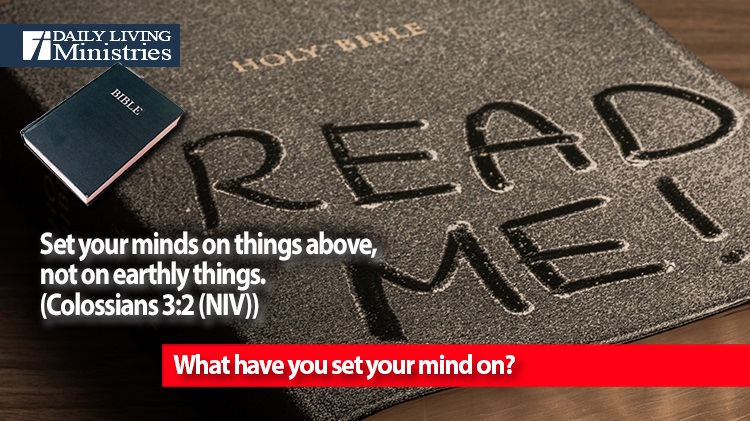 Be Still . . .
Devotionals for Daily Living ©
Set your minds on things above, not on earthly things.
(Colossians 3:2 (NIV))
We all have those things that we constantly think about. These are the things that fill our thoughts when we are not being distracted by other things such as work, family, sporting events, and other such worldly pursuits. What we think about is a choice! In all honesty, it is so very easy for these very things that I just listed to become what we set our minds on, for we often choose to think on these things and completely neglect what we are truly called to think about.
My son, keep my words
     and store up my commands within you.
Keep my commands and you will live;
     guard my teachings as the apple of your eye.
Bind them on your fingers;
     write them on the tablet of your heart.
(Proverbs 7:1-3 (NIV))
For where your treasure is, there your heart will be also.
(Matthew 6:21 (NIV))
God knows us all too well. He knows that what we think about is what we hold in our hearts. He knows the sinful, fallen human nature all too well. He knows that we are driven by desires. He knows that our sinful nature is what we will think of by default. I love the message in Colossians for it tells us distinctly to abandon our sinful nature and think only of the things of God.
Just how do you go about setting your mind on things above?
It takes a commitment!
You must dive deeply into God's Word and search the scriptures so that you can know God intimately. You must love the Lord with all your heart, all your mind, and all your soul. You must long for His truth above all else and you must recognize your own sinful nature.
That last one hurts! It is human nature to not want to admit that we are anything less than perfect. Too many of us think that we are masters of our own domain, our own destiny, and that anything that we do is perfectly acceptable. We don't want to admit that we need help, let alone that we need a Savior to rescue us from our sin. That whole attitude changes when you recognize that you are a sinner in need of a Savior, and start focusing on the Lord and not on yourself. We soon realize that we are not the center of our own little world. It is a matter of perspective. How we look upon our lives will determine what we set our minds on. If you see this life as your chance to get all that this world has to offer, then you will think of the things of this world.
What have you set your mind on?
Copyright 1998 – 2022 Dennis J. Smock
Daily Living Ministries, Inc.
https://www.dailylivingministries.org
Support Daily Living Ministries
Subscribe to daily email delivery
Visit us on facebook