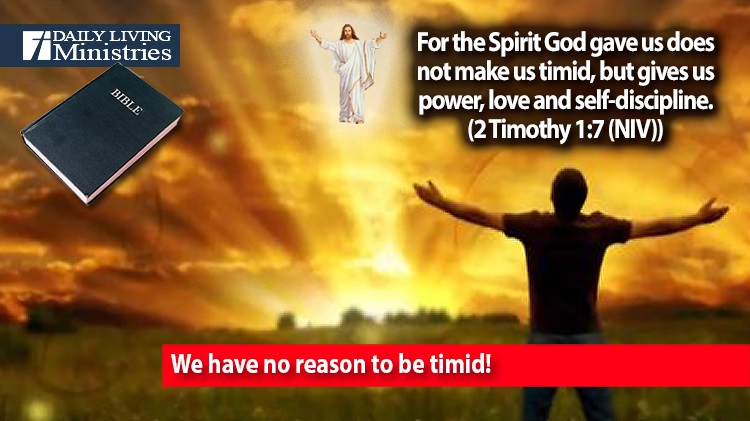 Be Still . . .
Devotionals for Daily Living ©
For the Spirit God gave us does not make us timid, but gives us power, love and self-discipline.
(2 Timothy 1:7 (NIV))
Have you ever been in a situation where you felt timid and intimidated?
Do you remember details about that situation and why you felt like that?
According to Merriam-Webster, we feel this way because we lack courage or self-confidence. We lack boldness or determination. In other words, we feel inferior and because of this we want to retreat and hide.
Does this sound like an attitude that anyone should have who professes a faith in Jesus as their personal Lord and Savior?
We have a hope and a faith that should spur us on because our hope and faith are placed in the only One who has the power and authority to back up the claims.
Therefore, since we have such a hope, we are very bold.
(2 Corinthians 3:12 (NIV))
It all comes down to a simple question that Jesus asked long ago and is still asking each of us to this day.
"But what about you?" he asked. "Who do you say I am?"
(Matthew 16:15 (NIV))
Your answer will determine so much. The wrong answer will leave you doubting. The right answer will give you assurance and boldness. It will give you confidence. It will give you a peace that passes understanding. It will give you the power and the authority to call upon Jesus as your personal Lord and Savior. It will prove beyond any doubt that you are loved by God. It will prove that you are a redeemed child of God!
We have no reason to be timid!
Copyright 1998 – 2021 Dennis J. Smock
Daily Living Ministries, Inc.
http://www.dailylivingministries.org
Support Daily Living Ministries
Subscribe to daily email delivery
Visit us on facebook