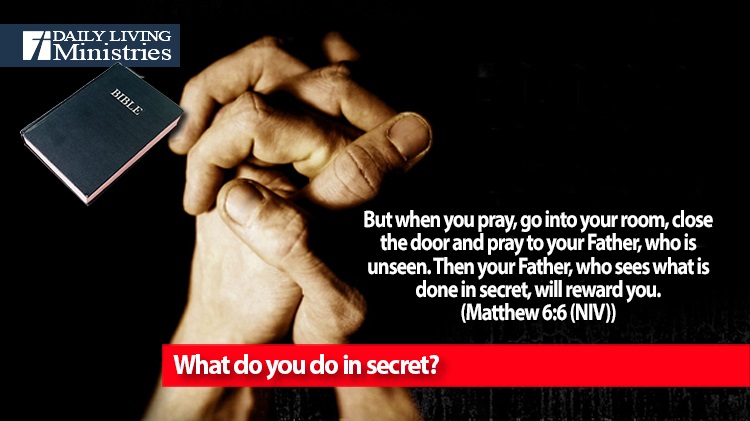 Be Still . . .
Devotionals for Daily Living ©
But when you pray, go into your room, close the door and pray to your Father, who is unseen. Then your Father, who sees what is done in secret, will reward you.
(Matthew 6:6 (NIV))
As believers, we are told not to forsake the assembly, but we are also told to do things in secret so that only the Father knows what we do. There are certain things that our Father wants us to do in secret, for if we do them in public, they will draw attention to us. If attention is drawn to us because of what we do, are we doing these things for the right reason? Are we simply doing them because we become the center of attention?
It is human nature to like attention. Personally, I believe that this comes as a result of the fall from grace. We long to be accepted. We long to have the praise of others, but in all honesty, what we truly seek is to fill that God-shaped hole that we all have because of the fall from grace. The proverbial fifteen minutes of fame is something that we all like because it makes us feel accepted. It makes us feel loved. It makes us feel important.
It is for this reason that Jesus tells us to not be like that.
"Be careful not to practice your righteousness in front of others to be seen by them. If you do, you will have no reward from your Father in heaven.
"So when you give to the needy, do not announce it with trumpets, as the hypocrites do in the synagogues and on the streets, to be honored by others. Truly I tell you, they have received their reward in full. But when you give to the needy, do not let your left hand know what your right hand is doing, so that your giving may be in secret. Then your Father, who sees what is done in secret, will reward you.
"And when you pray, do not be like the hypocrites, for they love to pray standing in the synagogues and on the street corners to be seen by others. Truly I tell you, they have received their reward in full.
(Matthew 6:1-5 (NIV))
If you want to have a conversation with someone whom you love, do you loudly and publicly say what you want to say or do you find a quiet, private place to share what is on your heart? Do you share the secrets of your heart so that all will see and hear, or do you share them only with the one for whom they are intended.
Your life is God's gift to you. Your salvation is God's gift to you. What you do with your life and how you live your life is your gift to God. He loves you. He longs for a loving two-way relationship with you. For those of you who had siblings, you know that you cherished the alone time with just you and a parent. Did you have little "secret" things that you did, such as fishing, baseball games, or movies? These things are what others would not understand. Family time is great, but there is something special about one on one. With that in mind, we must remember that God is our Father and He wants us to have that secret time with Him.
What do you do in secret?
Copyright 1998 – 2022 Dennis J. Smock
Daily Living Ministries, Inc.
https://www.dailylivingministries.org
Support Daily Living Ministries
Subscribe to daily email delivery
Visit us on facebook