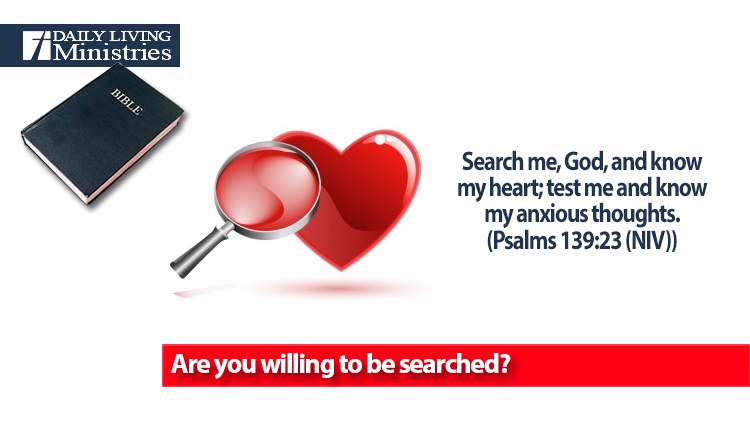 Be Still . . .
Devotionals for Daily Living ©
Search me, God, and know my heart; test me and know my anxious thoughts.
(Psalms 139:23 (NIV))
What imagery comes to mind when you think of being searched?
Is it invasive? Is it forceful? Is it a scenario where you feel extremely uncomfortable? Is your imagery of being searched something that you would want to be put through? Is this how you envision God searching you?
We have a choice. We can profess a faith in Jesus as our personal Lord and Savior, and then open up our heart to the searching and guidance of the Holy Spirit, or we can wait until the appointed time when Jesus returns. We can surrender to the gentle searching that will lead to a maturity in Christ, or we can be defiant now and face something that none of us want to face. Those who don't profess a faith in Jesus now will acknowledge His Lordship too late!
that at the name of Jesus every knee should bow,
     in heaven and on earth and under the earth,
and every tongue acknowledge that Jesus Christ is Lord,
     to the glory of God the Father.
(Philippians 2:10-11 (NIV))
Asking God to search your heart means that you surrender to Him and to His plans for you. Asking God to search your heart indicates that you are ready and willing to take a step toward realizing the hope of a future in His presence.
For I know the plans I have for you," declares the Lord, "plans to prosper you and not to harm you, plans to give you hope and a future.
(Jeremiah 29:11 (NIV))
If you ask the Lord to search your heart, you better be prepared for God to remove some things from your life. You better be prepared to experience some spiritual growing pains as the Lord refines you and makes you into someone that He can use.
Remove the dross from the silver,
     and a silversmith can produce a vessel;
(Proverbs 25:4 (NIV))
Asking the Lord to search your heart is the first step.
Are you willing to be searched?
Copyright 1998 – 2021 Dennis J. Smock
Daily Living Ministries, Inc.
http://www.dailylivingministries.org
Support Daily Living Ministries
Subscribe to daily email delivery
Visit us on facebook