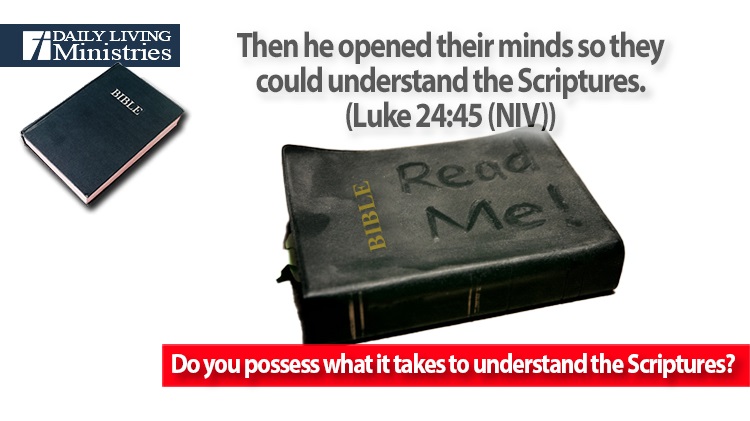 Be Still . . .
Devotionals for Daily Living ©
Then he opened their minds so they could understand the Scriptures.
(Luke 24:45 (NIV))
Have you ever truly thought about this passage and this concept?
Most people believe that they can understand what they read, but most things that people read are written for their level of comprehension. For example, how many people do you know who could read a book on an advanced science and fully understand the concepts being presented? First, you would need to have an interest in the subject. You would also need someone to explain the concepts in order to understand it accurately. Once it is explained, then you have a basis of understanding and can read and understand other similar material.
The same is true of the Scriptures and who better to explain it than the One that everything is written about?
We know the story of the Road to Emmaus, and how Jesus opened their minds to better understand what they had been taught all of their lives. We know how they went to tell the Disciples what had happened, and then we know that Jesus appeared in the midst of those who were gathered. We know that He then explained everything to them.
Jesus opened their minds!
I don't know about you, but if I had witnessed the crucifixion and then was presented with Jesus alive and well, I would listen very intently to what He had to say. I would cling to His every word in the hope of receiving insight and truth.
Why don't we do that today?
We have His words. We have the words written about Him that told of Him long before He walked the earth. We have the same human understanding and inquisitive minds as they possessed then, but why do we fail to allow His Word to open our minds and our hearts? Have we become shallow in our pursuit of truth? Have we become shallow in our pursuit of understanding? Have we lost our ability to study and reason? Have we become so distractible that we can't focus long enough to have our minds opened to the truth?
There is only so much that we can have spoon fed to us. At some point, we need to say that we understand the basics and then continually read and study for ourselves while always keeping a prayerful heart and a mind open to understanding God's Word. It requires effort. It requires an interest. It requires dedication.
Do you possess what it takes to understand the Scriptures?
Copyright 1998 – 2021 Dennis J. Smock
Daily Living Ministries, Inc.
http://www.dailylivingministries.org
Support Daily Living Ministries
Subscribe to daily email delivery
Visit us on facebook