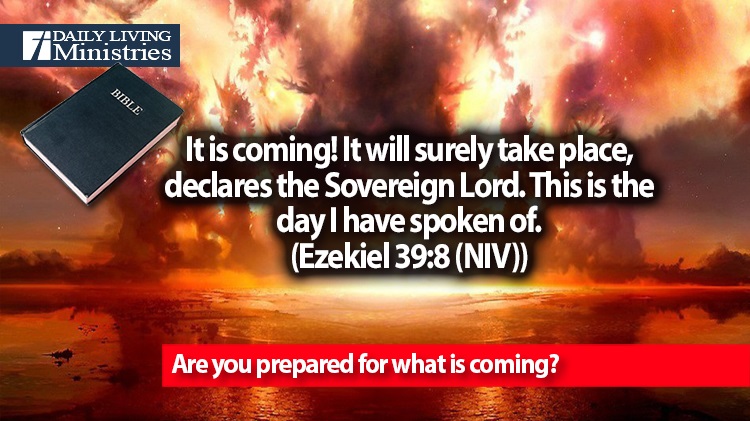 Be Still . . .
Devotionals for Daily Living ©
It is coming! It will surely take place, declares the Sovereign Lord. This is the day I have spoken of.
(Ezekiel 39:8 (NIV))
Does it scare you?
I realize that your answer to this question relies on an understanding of what this passage is referring to as "it."
To put is simply, it is the point in history when the Lord decides that enough is enough. It is the point in history when evil is running so rampant that all nations have turned against Israel. It is the point in history when Gog and Magog have attacked Israel and God supernaturally defeats those who would destroy Israel and Jerusalem. Many people believe that this event will happen first and then the seven years of tribulation spoken of in Revelation will soon follow. This time period is often referred to as the End of the Age and the Day of the Lord.
Does it scare you now?
God's timeline is unfolding right before our eyes. Every day we see things happening that can be interpreted as signs of the times. We see nation rising against nation. We see wars and rumors of wars. We see every nation turning against Israel. We see the nations aligning themselves in the exact alliances that are prophesied in God's Word. With all that is happening, most people are oblivious to the events unfolding. They are more concerned with returning to a normal life after COVID-19 while they completely miss what God is placing right in front of them. Nothing in God's Word promises a life of "normal" in this sinful, fallen world.
Are we paying attention?
You will hear of wars and rumors of wars, but see to it that you are not alarmed. Such things must happen, but the end is still to come. Nation will rise against nation, and kingdom against kingdom. There will be famines and earthquakes in various places. All these are the beginning of birth pains.
(Matthew 24:6-8 (NIV))
I want to ask some very direct questions and I want you to honestly take a look at your life and give yourself honest answers.
Do you believe that the Bible is God's Word.
If you believe that the Bible is God's Word, do you read and study prophecy for the Bible is more than life lessons from the past?
Do you believe that it is a forewarning of what the Lord is doing now?
Do you know God's Word well enough to know the difference between His truth and the lies of the enemy?
Have you bought into the lie that says that prophecy is for some generation far in the future?
Have you decided that you don't need to worry about the Day of the Lord?
What if you are wrong? What if you wake up tomorrow and find that it has begun? Now is the time to get ready. Now is the time to accept Jesus as your personal Lord and Savior!
Are you prepared for what is coming?
Copyright 1998 – 2021 Dennis J. Smock
Daily Living Ministries, Inc.
http://www.dailylivingministries.org
Support Daily Living Ministries
Subscribe to daily email delivery
Visit us on facebook