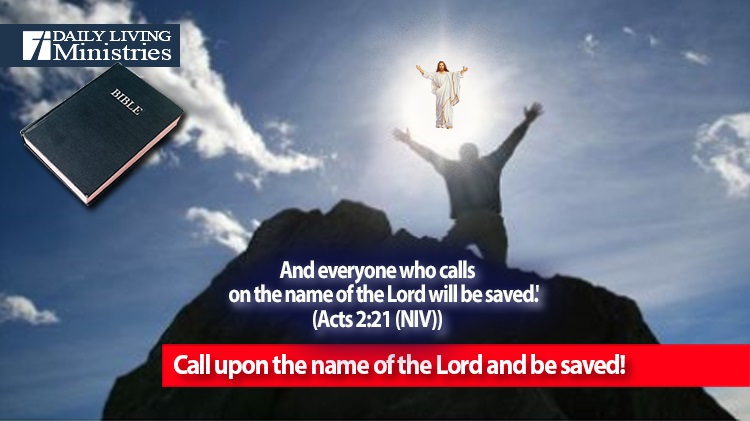 Be Still . . .
Devotionals for Daily Living ©
And everyone who calls
     on the name of the Lord will be saved.'
(Acts 2:21 (NIV))
As believers, we love this passage for it means so much to our faith, but have you truly stopped to look at this passage in its complete context?
Then Peter stood up with the Eleven, raised his voice and addressed the crowd: "Fellow Jews and all of you who live in Jerusalem, let me explain this to you; listen carefully to what I say. These people are not drunk, as you suppose. It's only nine in the morning! No, this is what was spoken by the prophet Joel:
"'In the last days, God says,
     I will pour out my Spirit on all people.
Your sons and daughters will prophesy,
     your young men will see visions,
     your old men will dream dreams.
Even on my servants, both men and women,
     I will pour out my Spirit in those days,
     and they will prophesy.
I will show wonders in the heavens above
     and signs on the earth below,
     blood and fire and billows of smoke.
The sun will be turned to darkness
     and the moon to blood
     before the coming of the great and glorious day of the Lord.
And everyone who calls
     on the name of the Lord will be saved.'
(Acts 2:14-21 (NIV))
It is the closing remark that Peter referenced from Joel. It defines a time that has not come yet, but may be drawing closer than anyone knows. The last days are clearly defined as terrible times and we truly understand that calling on the name of the Lord will save us.
But, . . .
We don't have to wait until the last days to call on the name of the Lord!
Don't wait! Tomorrow may be too late, for none of us are promised tomorrow. It is better to trust in the saving grace of the Lord before you face troubles, for you may not survive the troubles. You may not have a chance to make that profession of faith by calling upon His name as your Lord and Savior. Life is precious, yet it can end in an instant. It can end before you have a chance to even think the words.
I realize that most people who read these devotionals have already accepted Jesus as their personal Lord and Savior. Please excuse me while I address those who have not yet made that profession of faith.
Are you willing to gamble all of eternity on your ability to perfectly time you profession of faith in the last seconds of your life? I am not trying to be macabre, but there are numerous ways that this life can end before you can even process a single thought. Don't delay in accepting Jesus as your personal Lord and Savior.
Call upon the name of the Lord and be saved!
Copyright 1998 – 2022 Dennis J. Smock
Daily Living Ministries, Inc.
https://www.dailylivingministries.org
Support Daily Living Ministries
Subscribe to daily email delivery
Visit us on facebook