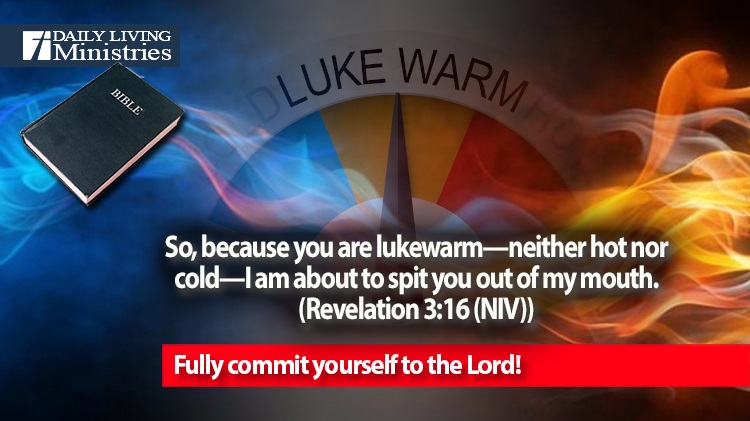 Be Still . . .
Devotionals for Daily Living ©
So, because you are lukewarm—neither hot nor cold—I am about to spit you out of my mouth.
(Revelation 3:16 (NIV))
Laodicea literally means the will of the people!
They professed a faith, yet lived as if they didn't. They thought that they were rich in both the ways of the world and in spiritual matters. They didn't look to God. They looked to themselves. The letter to Laodicea was far from encouraging. This is the only letter of the seven written to the churches that had nothing good to say about their faith.
"To the angel of the church in Laodicea write:
These are the words of the Amen, the faithful and true witness, the ruler of God's creation. I know your deeds, that you are neither cold nor hot. I wish you were either one or the other! So, because you are lukewarm—neither hot nor cold—I am about to spit you out of my mouth. You say, 'I am rich; I have acquired wealth and do not need a thing.' But you do not realize that you are wretched, pitiful, poor, blind and naked. I counsel you to buy from me gold refined in the fire, so you can become rich; and white clothes to wear, so you can cover your shameful nakedness; and salve to put on your eyes, so you can see.
Those whom I love I rebuke and discipline. So be earnest and repent. Here I am! I stand at the door and knock. If anyone hears my voice and opens the door, I will come in and eat with that person, and they with me.
To the one who is victorious, I will give the right to sit with me on my throne, just as I was victorious and sat down with my Father on his throne. Whoever has ears, let them hear what the Spirit says to the churches."
(Revelation 3:14-22 (NIV))
If I were to venture a few speculations, I think that I could safely say that they had taken worship out of their assemblies if they even met at all. They didn't need to worship for they felt that they had it all. The Lord was not the center of their assemblies or their lives, and I think that it is safe to say that they barely gave what I refer to as lip service. Their hearts were not in it because they felt that they had to reason to worship in truth for they had made themselves rich.
Does that sound familiar in the society that we see today? We see people engrossed in what they have accomplished and in what they want that they completely forget to even acknowledge the Lord in any way at all.
We have become a society where anything and everything is feasible because truth is relative. Each person has their own truth, but how has that gone for us the last several years? We are now a society that is triggered by facts and the truth. Feelings and personal desires are now what is important. Dare I say that we are even seeing this in our churches? Some churches are no longer preaching the saving grace of the Gospel of Jesus, but are preaching a gospel of social justice or personal empowerment. If there is no absolute truth, everything breaks down. With all that is happening in the world, are we seeing this happening in real-time? Has insanity become the new normal? I heard someone say the following in reference to what is happening in the world, and in the church.
Is the tail wagging the dog?
We should recognize this to mean that things are out of order. Perhaps the following makes that statement better.
Is the cart before the horse?
Personally, every single time I see something ungodly happen, the following comes to mind. I think that it says it best, especially when God told us that He would give people over to their reprobate minds.
Are the inmates running the asylum?
In the days ahead, we, as the Body of Christ, must stay true to His Word. We must cling fast to the truth of the Gospel of Jesus Christ and never allow anything to work its way into our lives and dilute the truth. As believers, we are supposed to be on fire for the Lord. We are supposed to be the light of the world. Don't allow that fire to die down and the light to be put out. Don't let your flame become just a warm ember.
Fully commit yourself to the Lord!
Copyright 1998 – 2022 Dennis J. Smock
Daily Living Ministries, Inc.
https://www.dailylivingministries.org
Support Daily Living Ministries
Subscribe to daily email delivery
Visit us on facebook