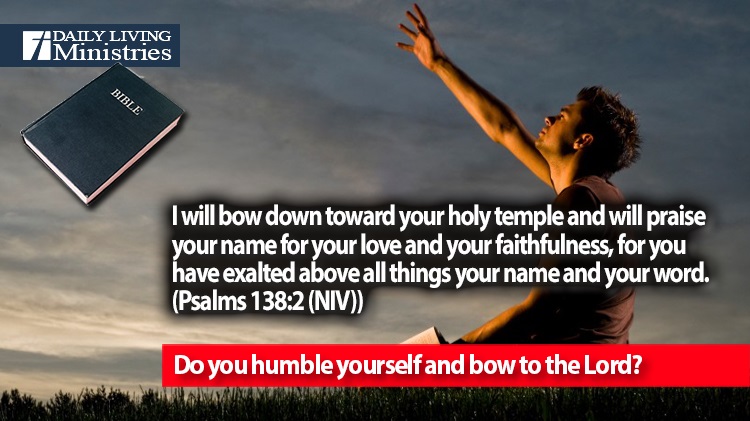 Be Still . . .
Devotionals for Daily Living ©
I will bow down toward your holy temple and will praise your name for your love and your faithfulness, for you have exalted above all things your name and your word.
(Psalms 138:2 (NIV))
Awe and reverence!
Two characteristics that clearly manifest themselves in people who truly understand God's power, majesty, grace, mercy and love. How can anyone who truly understands these godly traits do anything except bow down and praise God for what He has done?
No one else is capable of doing what God has done. Only God could have offered us grace and mercy that is eternal. Only God could have sent His Son to be an atoning sacrifice for our iniquities.
We did not ask Him to do it. He volunteered to do it because of His great love for us! How can we do any less that bow down and praise Him for what He has done, after all, He did not have to do any of it, for He is God. No one forces Him to do anything. No one can ever say that God has done something that goes against His very nature. If God cannot do anything that goes against His nature and He sent us Jesus to be our atoning sacrifice for our sins, then we have a Creator who truly loves us in spite of ourselves.
Have you bowed down in reverence and respect before God lately? Have you praised God for all that He has done for you? Have you actually thought about the grace and mercy that was freely given to you at the cost of God's only Son, Jesus Christ?
Do you humble yourself and bow to the Lord?
Copyright 1998 – 2022 Dennis J. Smock
Daily Living Ministries, Inc.
https://www.dailylivingministries.org
Support Daily Living Ministries
Subscribe to daily email delivery
Visit us on facebook