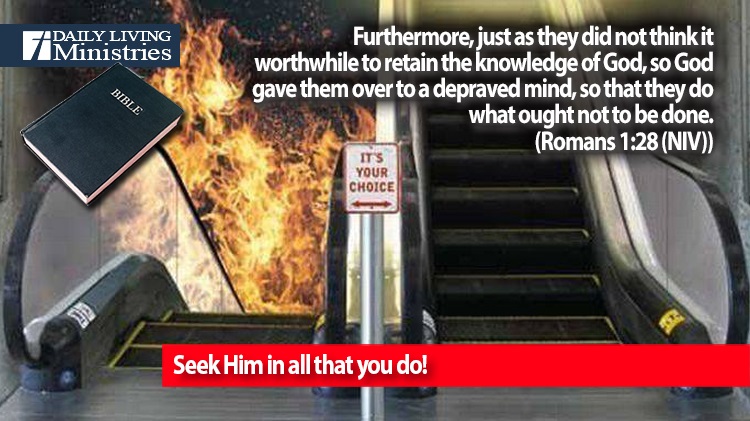 Be Still . . .
Devotionals for Daily Living ©
Furthermore, just as they did not think it worthwhile to retain the knowledge of God, so God gave them over to a depraved mind, so that they do what ought not to be done.
(Romans 1:28 (NIV))
The English Standard Version and the New King James Version both reference a debased mind. The King James Version uses the words a reprobate mind. No matter what translation you prefer, the meaning is clear. God allows those who basically mock Him and rebel against Him to get exactly what they want to the point of depravity, corruption, evil and perversion.
When you see things unfolding in this world, we must remember that God is a gentleman. He will not force Himself on anyone. He allows people to get what they want. As we watch things unfold right before our eyes, all that we can do is pray for God's Will to be done. When evil is being called good and good is being called evil, we must pray for God's Will to be done. When the world appears to be helpless, hopeless and lost, we must pray for God's Will to be done. We look at things and want to pray for our will to be done, but that is what the world strives to do. We must put our will aside and pray that we seek His Will and His understanding. Sadly, there are so many people who will push their will all the way to eternal separation from God.
I know a lady who got to the point that she simply prayed to know what she needs to know when she needs to know it. With all that is going on in the world, I truthfully believe that we should all be praying this same prayer. Ask for His guidance. Ask for His direction. Stay at the foot of the cross and keep your eyes focused on Jesus.
I saw many things today that from a worldly perspective made my heart sink. At the same time, from a faith perspective, they made me look up for Jesus! When you hear of a public address program aimed at New York City telling people what to do in case of a nuclear attack, you look up. When you hear of record breaking heat waves in areas of the world that have never had temperatures in these extremes, you look up. When you hear of global pandemics, you look up. When you hear of wars and rumors of wars, you look up. When you hear of labor shortages, food shortages, and increasing prices, you look up. When you hear that people can't define the differences between a man and a woman, you look up. When a lie is considered the truth and the truth is considered a lie, you look up.
I don't know about you, but I am seeing so much depravity in the world. There is so much more than I have ever seen.
I saw a video today that had me in tears. It wasn't because of the depravity it contained. It was a music video of the song "Way Maker." It was performed in Jerusalem and the group consisted of Arabic believers and Jewish believers singing the song in Arabic, Hebrew and English. I watched it so many times and each time I watched it, I felt such joy and peace. I had tears in my eyes each time I watched it. Just thinking about it brings tears of joy.
Can you imagine the chorus of voices in heaven? Worship at its finest. Far away from the depravity of the world.
We have a promise to hold on to. Don't allow the depravity of the world make you lose site of that promise, that hope that we have in Jesus.
The knowledge of our Lord is so worthwhile!
Seek Him in all that you do!
Copyright 1998 – 2022 Dennis J. Smock
Daily Living Ministries, Inc.
http://www.dailylivingministries.org
Support Daily Living Ministries
Subscribe to daily email delivery
Visit us on facebook