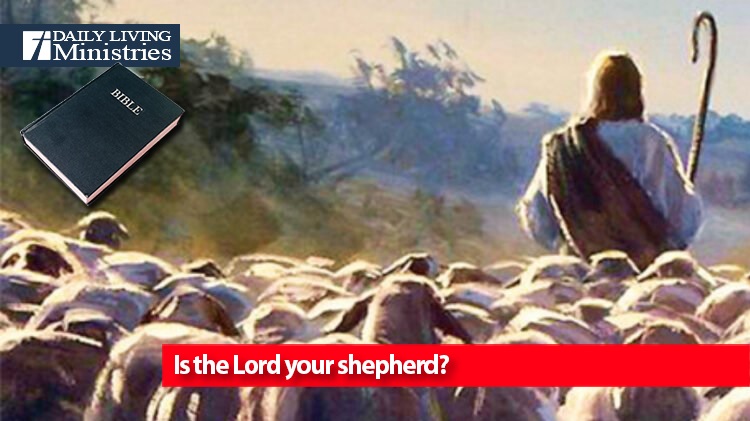 Be Still . . .
Devotionals for Daily Living ©
A Psalm of David.
The Lord is my shepherd; I shall not want.
      He makes me lie down in green pastures.
He leads me beside still waters.
      He restores my soul.
He leads me in paths of righteousness
      for his name's sake.
Even though I walk through the valley of the shadow of death,
      I will fear no evil,
for you are with me;
      your rod and your staff,
      they comfort me.
You prepare a table before me
      in the presence of my enemies;
you anoint my head with oil;
      my cup overflows.
Surely goodness and mercy shall follow me
      all the days of my life,
and I shall dwell in the house of the Lord
      forever.
(Psalms 23:1-6 (ESV))
David had a very honest relationship with the Lord, and it was very well documented in the prolific words that David gave us. I am so very thankful that these words were handed down to us. They show us so many aspects of the Lord that we probably would never truly think of without having these words in front of us. We know that God loves us, but David has managed to paint a very detailed visual image of some of the ways that His love was manifested in David's life and how it can be manifested in our lives as well. I can't begin to say it any better than what David wrote, so I won't even begin to try. All that I ask is that you read and take to heart exactly what David gave us in the hope that you will learn to see our Lord in the same light that David saw him. With that said, I have but one thing to ask.
Is the Lord your shepherd?
Copyright 1998 – 2022 Dennis J. Smock
Daily Living Ministries, Inc.
http://www.dailylivingministries.org
Support Daily Living Ministries
Subscribe to daily email delivery
Visit us on facebook