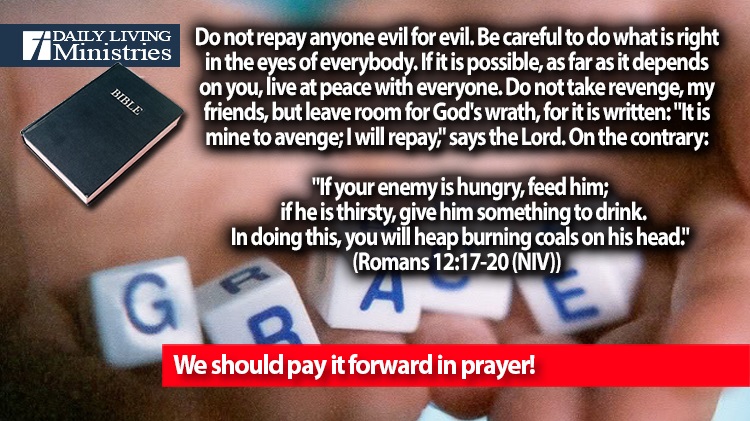 Be Still . . .
Devotionals for Daily Living ©
Do not repay anyone evil for evil. Be careful to do what is right in the eyes of everybody. If it is possible, as far as it depends on you, live at peace with everyone. Do not take revenge, my friends, but leave room for God's wrath, for it is written: "It is mine to avenge; I will repay," says the Lord. On the contrary:
   "If your enemy is hungry, feed him;
      if he is thirsty, give him something to drink.
   In doing this, you will heap burning coals on his head."
(Romans 12:17-20 (NIV))
When Jesus was being beaten before His crucifixion, He could have been angry and vengeful. In the world's point of view, He had every right to want to repay what He was receiving. Yet, Jesus did not exact revenge. Even though He was and is the Son of God, God With Us, He left the revenge to God the Father. It was not time. Jesus came to be a sacrifice so that many could live. If he had exacted vengeance at that time, it would have voided the reason that He came. If Jesus, who is Emmanuel, God with Us, can leave vengeance for God the Father, then we can too.
We need to treat our enemies as Jesus would treat them, for God loves everyone and He does not wish for any to perish, but when God's vengeance does come, it will come swiftly. With that in mind, we must pray for our enemies. We must pray that they receive the same grace and mercy that we received when we accepted what Jesus did on the cross.
We should pay it forward in prayer!
Copyright 1998 – 2022 Dennis J. Smock
Daily Living Ministries, Inc.
http://www.dailylivingministries.org
Support Daily Living Ministries
Subscribe to daily email delivery
Visit us on facebook