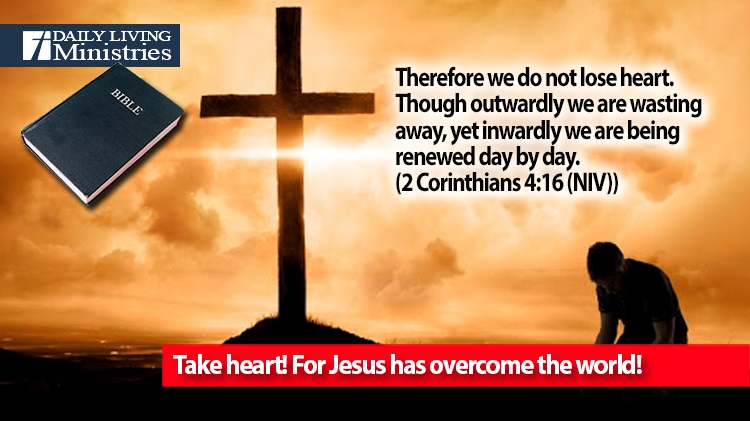 Be Still . . .
Devotionals for Daily Living ©
Therefore we do not lose heart. Though outwardly we are wasting away, yet inwardly we are being renewed day by day.
(2 Corinthians 4:16 (NIV))
This evening, I came very close to losing heart!
I came into my office and went to turn on the computer that I use to write, store and update the devotionals, the images, my notes, my reference materials, and the main website and the backup blog site, AND . . .
It would not turn on!
NOTHING!
With all of the storms that have been moving through my area, apparently they took out the computer since Friday evening. My first reaction was exactly what you would expect from a typical human reaction when anyone encounters this type of situation. It made it through my surge protection and my battery backups. After taking a step back and asking the Lord the typical why me question, He reminded me that no one is exempt from the attacks of the enemy and that the attacks increase if you are trying to do what you are called to do for the kingdom. I then remembered my small external hard drive that I use for file access when I use a less powerful laptop with far less storage. I found myself praying that this portable hard drive wasn't hit. Thankfully, it was spared and I am able to get this devotional written and sent today even though my database of devotionals and images are not up to date. God made me realize that I was relying on my skills with computers and not relying on Him. At present, I do not have access to the almost 2 TB of notes, images, and reference materials that God has shown to me over the years. I have an automatic backup in place, but I do not currently have a computer with enough capacity to get to these backup files, and that is IF the backup system was not taken out as well!
I pray that it wasn't, BUT . . .
Even if it was, it is not the end of the world, or the end of this ministry. I do not rely on things made of man. I use them to do what I am called to do. The technology is the means of distribution. It is not the means of inspiration. Tonight I had a personal reminder of exactly what Jesus spoke of.
"I have told you these things, so that in me you may have peace. In this world you will have trouble. But take heart! I have overcome the world."
(John 16:33 (NIV))
Since I started this path almost twenty-five years ago, many things have changed. What I was once able to do for free, the ministry now has to pay monthly fees, and these fees are not cheap. I want to take this opportunity to stop and thank those who have contributed over the years and to say that it is with your help that this ministry has been able to reach 128 countries on six continents. Today, I had someone ask me why I missed a day last week. I had to explain that I had power problems that only effected my office and my internet. I had to stop this evening and think back on that question with the realization that the power event had also been an attack of the enemy.
I realize that things happen in this world. I also realize that when these things do happen, we do not need to lose heart.
Take heart! For Jesus has overcome the world!
Copyright 1998 – 2022 Dennis J. Smock
Daily Living Ministries, Inc.
http://www.dailylivingministries.org
Support Daily Living Ministries
Subscribe to daily email delivery
Visit us on facebook