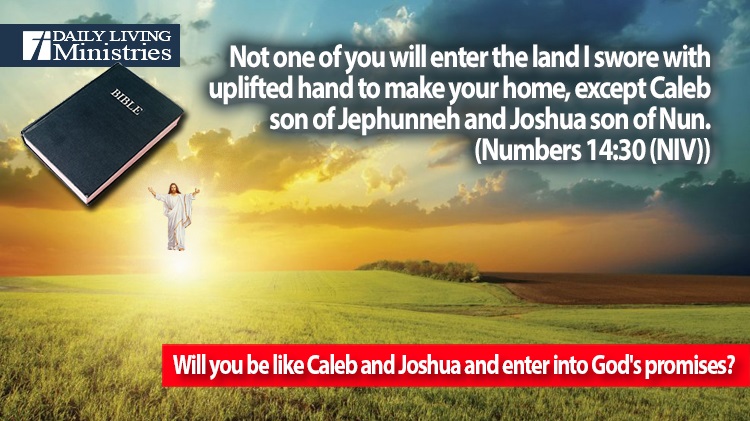 Be Still . . .
Devotionals for Daily Living ©
Not one of you will enter the land I swore with uplifted hand to make your home, except Caleb son of Jephunneh and Joshua son of Nun.
(Numbers 14:30 (NIV))
I was given a history lesson that I feel that I need to share with you from a perspective that most of us are not aware of.
We all know the story of how Moses sent people into the land that God had promised to give them so that they could spy out the land. When they returned, all but Caleb and Joshua report that the land is unconquerable. As a result, the people rebelled and cried out to be taken back to Egypt. What we read in Numbers 14:30 is part of God's response to this rebellion, to this very public display of their distrust of God. What we don't know as part of the Gentile world is the historical date that this happened on. Here is where I started to learn something of extreme interest. This event occurred on the 9th of Av in the Hebrew calendar.
We all know about Solomon's Temple which is also known as the First Temple. It was destroyed in 423 BC by an invading army. Israel had rejected God and would not repent. They had fallen into sin. If you made the assumption that Solomon's Temple was destroyed on the 9th of Av, you would be correct.
The Second Temple, the one present at the time of Jesus, was destroyed by the Romans in 69 AD after Israel had rejected Jesus as the Son of God. Jesus called them hypocrites for doing all of the right things for the wrong reasons. Once again, this happened on the 9th of Av.
There are numerous other events that have all happened on the 9th of Av.
– The Jews were expelled from England in 1290 AD.
– The Jews were banished from Spain in 1492 AD.
– World War I began in 1914 AD. Some historians believe that WWII and the holocaust were actually a continuation of WWI.
It is said that once you accept Jesus as your personal Lord and Savior, you become a temple for the Holy Spirit. Please don't twist this. I am trying to convey a point without going into all of the details. In essence, the Holy Spirit comes to live in us.
"If you love me, keep my commands. And I will ask the Father, and he will give you another advocate to help you and be with you forever— the Spirit of truth. The world cannot accept him, because it neither sees him nor knows him. But you know him, for he lives with you and will be in you. I will not leave you as orphans; I will come to you. Before long, the world will not see me anymore, but you will see me. Because I live, you also will live. On that day you will realize that I am in my Father, and you are in me, and I am in you. Whoever has my commands and keeps them is the one who loves me. The one who loves me will be loved by my Father, and I too will love them and show myself to them."
(John 14:15-21 (NIV))
"All this I have spoken while still with you. But the Advocate, the Holy Spirit, whom the Father will send in my name, will teach you all things and will remind you of everything I have said to you. Peace I leave with you; my peace I give you. I do not give to you as the world gives. Do not let your hearts be troubled and do not be afraid.
(John 14:25-27 (NIV))
Based on the history of the importance of this date and the proposed explanations of the Temples:
– Solomon's Temple was destroyed because of the Jews rejecting or turning away from God the Father,
– The Second Temple was destroyed because the Jews rejecting Jesus as the Son,
– It has been speculated that the temple to the Holy Spirit, the true church, will be removed, Harpazoed, Raptured, on the 9th of Av because those who don't profess a faith in Jesus have not only rejected Jesus, they have rejected the Holy Spirit!
Just for reference, a day in the Jewish tradition is marked from sundown of one day to sundown, or nightfall, of the next day. I find it interesting that many people believe the phrase "in the twinkling of an eye" is accurately used to indicate nightfall. This is when the sun vanishes and a last twinkle of light is seen! Think of that in terms of when Jesus said that we are the light of the world!
I am not setting dates, only presenting what I have recently seen. It is a very intriguing series of events that God has unfolded all on the same day in the Hebrew calendar. No matter what the date may be, we must be ready. If you are not ready, it is as simple as ABC.
Admit that you are a sinner in need of a savior.
Believe in your heart that Jesus Christ died for your sins, was buried, and that God raised Him from the dead.
Call upon the name of the Lord Jesus.
Are you ready? Will you be like Caleb and Joshua and enter into God's promises?
Click here if you are curious as to when the 9th of Av falls in our calendar for the next few years.
Copyright 1998 – 2022 Dennis J. Smock
Daily Living Ministries, Inc.
http://www.dailylivingministries.org
Support Daily Living Ministries
Subscribe to daily email delivery
Visit us on facebook