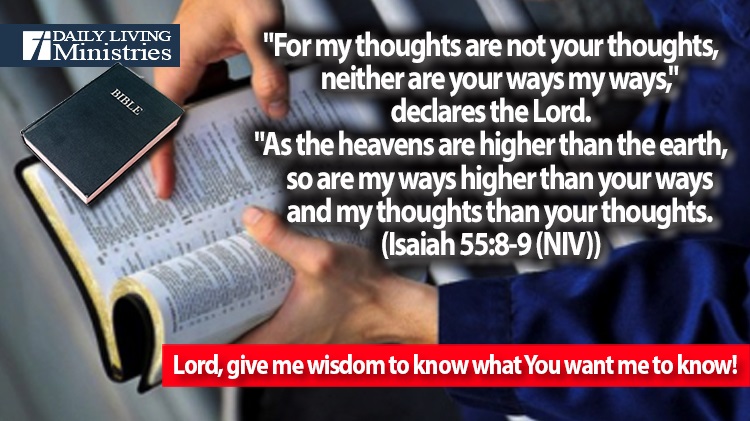 Be Still . . .
Devotionals for Daily Living ©
"For my thoughts are not your thoughts,
     neither are your ways my ways,"
declares the Lord.
"As the heavens are higher than the earth,
     so are my ways higher than your ways
     and my thoughts than your thoughts.
(Isaiah 55:8-9 (NIV))
Some of you will realize that I have referenced this passage each of the last two days. I was given something this morning about this passage that I feel I need to share.
Have you ever heard the old story of a group of blind men trying to experience an elephant?
They all gather around an elephant and feel what they are in front of. One feels a tusk and replies that the elephant is like a spear. One feels a leg and proclaims that an elephant is a mighty tree. One feels the tail and proclaims that an elephant is like a strong rope. One feels the trunk and comes to the conclusion that it is like a huge snake. Another feels an ear and believes that the elephant is like a giant fan. Still one more feels it's side and proclaims that an elephant is like a giant wall.
In their limited understanding, they are not wrong. They just don't see the whole picture! In fact, they argue amongst themselves because they all believe that they are right.
Does this sound familiar?
Are we the proverbial blind men trying to understand God and His plans?
For now we see only a reflection as in a mirror; then we shall see face to face. Now I know in part; then I shall know fully, even as I am fully known.
(1 Corinthians 13:12 (NIV))
In this case, I love the way that the King James Version translates this passage.
For now we see through a glass, darkly; but then face to face: now I know in part; but then shall I know even as also I am known.
(1 Corinthians 13:12 (KJV))
If you profess a faith in Jesus as our personal Lord and Savior, you see and understand more than someone who doesn't. This insight still doesn't give us a complete picture of what God is up to. All that we can know is the part that we have been given. If we are given one part, we should not argue with someone who claims to have been given another part, for what they have been given may be intended to round out what you have been given. None of us has a complete understanding of God and His plans. In fact, I truly believe that we, as sinful fallen humanity, are not capable of comprehending the vastness of all that He is. With that in mind, it only makes sense that God would only give each of us glimpses into His thoughts and His ways because He knows that we cannot comprehend the fullness that is our God.
Until we can fully understand, I wholeheartedly cling to the words that a friend once told me. She prayed to be able to know what God wants her to know when He wants her to know it, and to trust in Him even when He doesn't tell her anything. Is this your prayer?
Lord, give me wisdom to know what You want me to know!
Copyright 1998 – 2022 Dennis J. Smock
Daily Living Ministries, Inc.
https://www.dailylivingministries.org
Support Daily Living Ministries
Subscribe to daily email delivery
Visit us on facebook