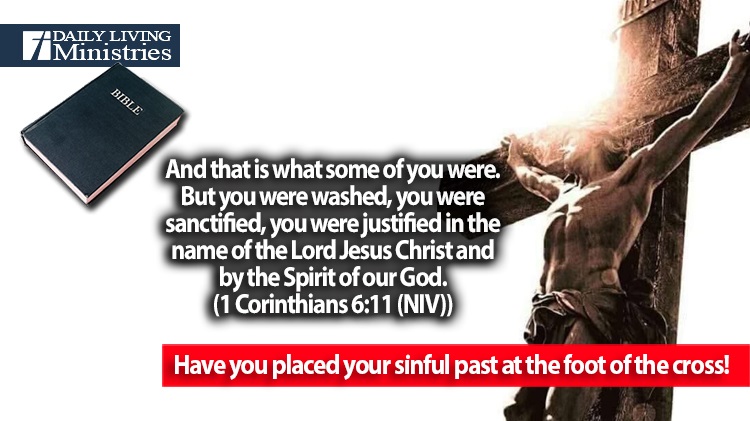 Be Still . . .
Devotionals for Daily Living ©
And that is what some of you were. But you were washed, you were sanctified, you were justified in the name of the Lord Jesus Christ and by the Spirit of our God.
(1 Corinthians 6:11 (NIV))
Do you like living in the past?
Would you like to go back and relive your life?
I realize that we all have the proverbial "what if" moments when we stop to reflect, but how many of us truly wish to go back and live through the things that we now try to put behind us? If we truly have left something behind, why do we wish to revisit it? If we truly have put our sinful past behind us, why would we wish to revert back to our sinful, fallen nature and the consequences of that sin, especially since we have the glorious promise of grace and mercy that was freely given to us through the cross?
When you complete elementary school, do you wish to go back to kindergarten? When you complete college, do you wish to go back to elementary school? Then, why do so many people, upon professing a faith in Jesus, return to their sin? Sadly, we are creatures of habit. We had become comfortable with our sin. We had become addicted to our sin, and that addiction draws us. Even if we don't respond, it nags us. It tempts us. It reminds us of our past.
It makes us think that we are unworthy of the mercy and grace that we have been given!
To be honest with you, we are unworthy. However, we have a Father who loves us and His love is greater than all of our sin. He provided a way for us to be redeemed. Not of our doing, but of His doing!
For God so loved the world that he gave his one and only Son, that whoever believes in him shall not perish but have eternal life. For God did not send his Son into the world to condemn the world, but to save the world through him.
(John 3:16-17 (NIV))
With this in mind, I wish to remind you of a saying that when the devil reminds you of your past, you are to remind him of his future. You are to boldly profess that you have been washed by the blood of the lamb and that your garments have been made white as snow. He no longer sees your sins. He sees righteousness inherited because of your faith in Jesus.
Your sins have been removed because of His great love.
For as high as the heavens are above the earth,
     so great is his love for those who fear him;
as far as the east is from the west,
     so far has he removed our transgressions from us.
(Psalm 103:11-12 (NIV))
Have you placed your sinful past at the foot of the cross!
Copyright 1998 – 2023 Dennis J. Smock
Daily Living Ministries, Inc.
https://www.dailylivingministries.org
Support Daily Living Ministries
Subscribe to daily email delivery
Visit us on facebook