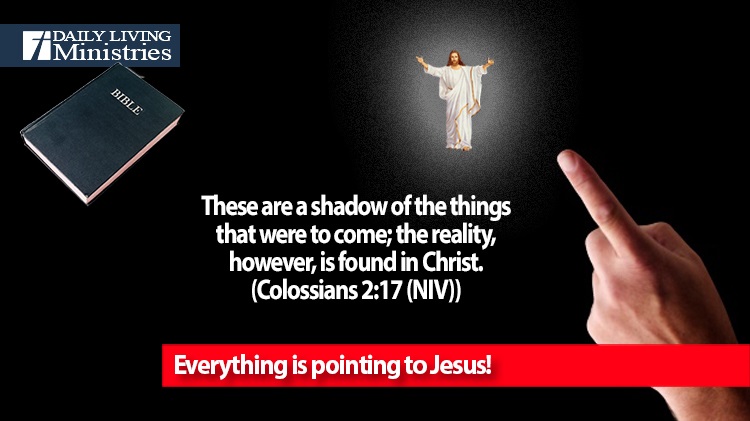 Be Still . . .
Devotionals for Daily Living ©
These are a shadow of the things that were to come; the reality, however, is found in Christ.
(Colossians 2:17 (NIV))
With this sentence, Paul was telling the church at Colossae that all of the things in this world all point to Jesus. He had just stated that they were not to be judged based on human traditions or on limited human understandings of the things that God had put in place, for these things that God has put in place are all pointing to Jesus.
Therefore do not let anyone judge you by what you eat or drink, or with regard to a religious festival, a New Moon celebration or a Sabbath day.
(Colossians 2:16 (NIV))
Do we, as the "modern" church, believe that everything that God has ordained points to Jesus? Do we truly understand how the Jewish festivals are all foreshadows of events that have been or will be fulfilled by the Lord on the exact day that the festival represents? We are told that His ways are not our ways, and that His ways are far above our ways. If God can make a bright star appear at the birth of Jesus, why do we fail to recognize that He can do amazing things again? If God can give us the perfect Passover lamb at Passover, and then raise Him from the dead on the feast of First Fruits, why do we think that the rest of God's holy days will not bring the same powerful results? Why do we think that God is not following His timing according to His planned festivals? Why do we think that God is not following His timing as we see and often fail to even recognize the events that are happening all around the world, and at a rate that is ever increasing in frequency and intensity?
You will hear of wars and rumors of wars, but see to it that you are not alarmed. Such things must happen, but the end is still to come. Nation will rise against nation, and kingdom against kingdom. There will be famines and earthquakes in various places. All these are the beginning of birth pains.
(Matthew 24:6-8 (NIV))
What happens with birth pains?
They increase in frequency and intensity!
Does this sound familiar?
We are told that no man knows the hour or the day, but that we can recognize the season. If you stopped your daily life long enough to sit and watch, to sit and wait on the Lord, what do you think that you would recognize? Would you see birth pains? Would you see everything increasing in frequency and intensity? Would you see that everything is converging on one promise, on one person, on one Lord and Savior? I honestly believe that now, more than ever, what Paul wrote to the church at Colossae is closer than we may realize.
Are you looking to where everything is pointing?
Everything is pointing to Jesus!
Copyright 1998 – 2022 Dennis J. Smock
Daily Living Ministries, Inc.
https://www.dailylivingministries.org
Support Daily Living Ministries
Subscribe to daily email delivery
Visit us on facebook