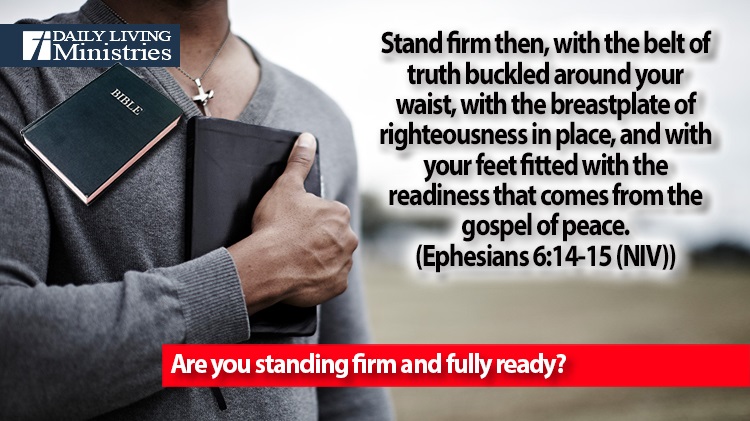 Be Still . . .
Devotionals for Daily Living ©
Stand firm then, with the belt of truth buckled around your waist, with the breastplate of righteousness in place, and with your feet fitted with the readiness that comes from the gospel of peace.
(Ephesians 6:14-15 (NIV))
What do you envision when you think of standing firm?
Most people think of being resolute and immovable. They think of bracing for impact from an onslaught or attack. They think of never surrendering. They think of taking a stand and being willing to sacrifice all for that stance.
Have you ever thought of readiness as a characteristic of standing firm?
From a physical standpoint, when you make a decision to stand firm, that does not mean that you simply become a statue. Your senses are heightened. You constantly adjust back and forth on your feet and you stay alert and focused. Truly making a decision to stand firm is so much more than simply digging in and trying to present yourself as an immovable object. You are probably more alert than you have ever been. You are probably more agile than you have ever been, and you are probably more committed than you have ever been.
Based on this, if we stand firm in our faith in Jesus, we do not simply dig in our heals and wait for the enemy to overrun us. We prepare! We arm ourselves with His Word and we are constantly on the lookout for the attacks of the enemy, no matter how subtle.
Therefore put on the full armor of God, so that when the day of evil comes, you may be able to stand your ground, and after you have done everything, to stand.
(Ephesians 6:13 (NIV))
How is your armor fitting?
Does God's Word shield you from the attacks of the enemy or are you still trying to step into the protective power that is ours through His Word? Better yet, have you taken it to the next level where you are ready to fully embrace the power of His Word to defeat the enemy? Do you know how to defeat the enemy? That is something that everyone who professes a faith in Jesus as their personal Lord and Savior must be ready to do.
Call upon His Name!
that at the name of Jesus every knee should bow,
      in heaven and on earth and under the earth,
and every tongue acknowledge that Jesus Christ is Lord,
      to the glory of God the Father.
(Philippians 2:10-11 (NIV))
Call upon the name of Jesus in power and authority. God's Word is our armor and the name of Jesus is our weapon to overcome the enemy!
Are you standing firm and fully ready?
Copyright 1998 – 2022 Dennis J. Smock
Daily Living Ministries, Inc.
http://www.dailylivingministries.org
Support Daily Living Ministries
Subscribe to daily email delivery
Visit us on facebook