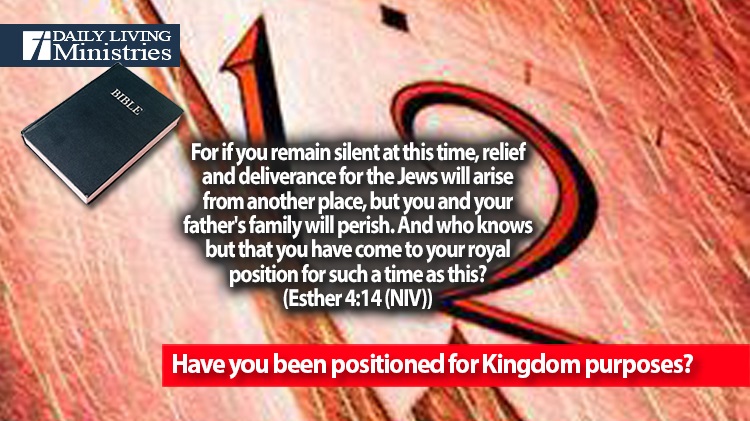 Be Still . . .
Devotionals for Daily Living ©
For if you remain silent at this time, relief and deliverance for the Jews will arise from another place, but you and your father's family will perish. And who knows but that you have come to your royal position for such a time as this?
(Esther 4:14 (NIV))
God places people in positions and circumstances in order to fulfill His purpose. Not many of us will have such a high calling and purpose as Esther. Just to refresh your memory, Esther was a Jewish orphan raised by her cousin, Mordecai. Through a series of events, she became the wife of the king of Persia. God had placed her in a position to save His people when Haman conspired to have all of the Jews killed because they would not bow to him. Even though there was great danger for her to approach the king, she recognized that God had placed her in this position for "such a time as this."
Esther is not the only person that God has orchestrated into certain situations in order to fulfill His purposes. He is still doing it today!
God's people faced death if Esther did not act. Today, many people potentially face eternal separation from God if we do not act. If we profess a faith in Jesus, then we have been given an assignment. We are to share the Gospel, the good news of Jesus!
Therefore go and make disciples of all nations, baptizing them in the name of the Father and of the Son and of the Holy Spirit, and teaching them to obey everything I have commanded you.
(Matthew 28:19-20a (NIV))
We have been placed at a point in history and location where God wants to use us to reach others. Some people who study prophecy are calling our current time the end of the age.
And surely I am with you always, to the very end of the age.
(Matthew 28:20b (NIV))
This means that the Lord is still with us. This means that the assignment has not changed. This means that each of us are positioned so that God can use us. Are you willing to be used? If the Lord is your coach, are you ready and willing to go into the game and do what needs to be done? Think about your life. Think about your family and friends. Think about the people you work with. You have been positioned in the lives of these people for a reason.
Have you been positioned for Kingdom purposes?
Copyright 1998 – 2021 Dennis J. Smock
Daily Living Ministries, Inc.
http://www.dailylivingministries.org
Support Daily Living Ministries
Subscribe to daily email delivery
Visit us on facebook