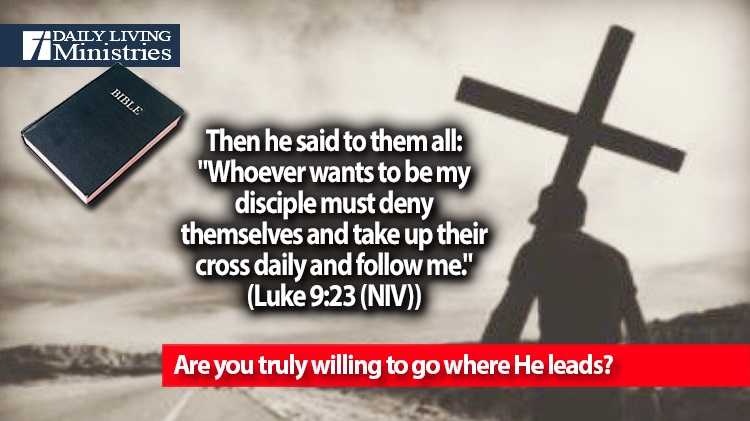 Be Still . . .
Devotionals for Daily Living ©
Then he said to them all: "Whoever wants to be my disciple must deny themselves and take up their cross daily and follow me."
(Luke 9:23 (NIV))
As we approach the day that we acknowledge as the day of the crucifixion of Jesus, we need to stop and reflect not only on what Jesus did for us, but also on what He has called us to do.
We are to take up our cross daily! We are to follow Him!
Keep in mind that Jesus was speaking to His disciples before the crucifixion and all that we have recorded is that He told His disciples that He would be killed. We have no record of Him saying that He would be crucified on a cross. Can you imagine just what the disciples thought when He told them to take up their cross daily and follow Him? Were they able to put this together in their minds with what would happen, or did they have an epiphany the day of the crucifixion? When did they truly realize that Jesus was calling them to a life of sacrifice in which their lives were no longer their first priority? Did they realize that there lives were no longer theirs? They had a purpose far greater than any of them could have ever conceived of for their lives.
What about you?
When did you realize that Jesus is calling you to change, to repent, and to follow Him no matter where He leads? When did you realize that as a follower of Jesus, your life would become so much more than simply existing for a few short years? When did you realize that Jesus had given you a purpose greater than yourself? When did you realize that Jesus is your purpose?
Are you truly following Jesus?
Are you truly willing to go where He leads?
Copyright 1998 – 2022 Dennis J. Smock
Daily Living Ministries, Inc.
http://www.dailylivingministries.org
Support Daily Living Ministries
Subscribe to daily email delivery
Visit us on facebook