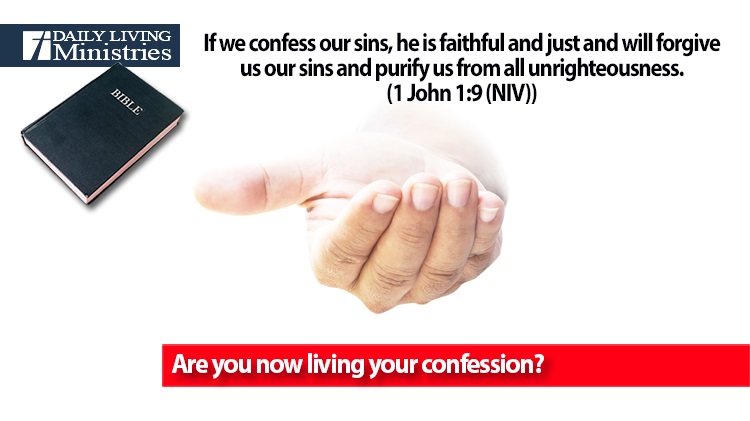 Be Still . . .
Devotionals for Daily Living ©
If we confess our sins, he is faithful and just and will forgive us our sins and purify us from all unrighteousness.
(1 John 1:9 (NIV))
Too many people fail to remember the first five words of this passage and simply believe that Jesus will forgive us of anything that we do. They do recognize His willingness to forgive, but they overlook one requirement – our willingness to confess. Too many people want the benefits without any of the responsibility. They want salvation and they want to keep on sinning! I would venture to say that they ignore the story about the woman caught in adultery. Do you remember what Jesus told her?
Jesus straightened up and asked her, "Woman, where are they? Has no one condemned you?"
"No one, sir," she said.
"Then neither do I condemn you," Jesus declared. "Go now and leave your life of sin."
(John 8:10-11 (NIV))
Jesus will not condemn us. We condemn ourselves by our sinful actions. We stay in our condemnation when we choose to stay in our sin. Jesus calls us to leave our life of sin. He calls us to turn away from our sin. He calls us to repent. He calls us to a saving knowledge of grace that is only available through His fulfillment of His Father's love.
For God so loved the world that he gave his one and only Son, that whoever believes in him shall not perish but have eternal life. For God did not send his Son into the world to condemn the world, but to save the world through him. Whoever believes in him is not condemned, but whoever does not believe stands condemned already because they have not believed in the name of God's one and only Son.
(John 3:16-18 (NIV))
Once again we read that Jesus does not condemn. It is sin that condemns us. Jesus paid the price for our sin, so now we can rejoice in the results of our confession!
Therefore, there is now no condemnation for those who are in Christ Jesus,
(Romans 8:1 (NIV))
No one knows at what moment their life will end. There is not a moment to waste. Jesus does not play favorites. If you earnestly and sincerely turn to Him and repent, you will not face condemnation for your sins. It is so simple to ask to receive this wonderful, eternal gift! It is as easy as ABC.
A is for admit that you are a sinner in need of a savior.
B is for believe in your heart that Jesus Christ died for your sins, was buried, and that God raised Him from the dead.
C is for call upon the name of the Lord Jesus.
Are you now living your confession?
Copyright 1998 – 2021 Dennis J. Smock
Daily Living Ministries, Inc.
http://www.dailylivingministries.org
Support Daily Living Ministries
Subscribe to daily email delivery
Visit us on facebook