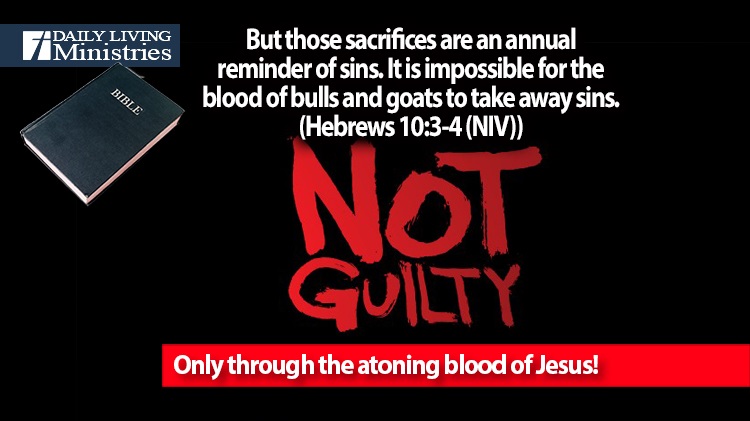 Be Still . . .
Devotionals for Daily Living ©
But those sacrifices are an annual reminder of sins. It is impossible for the blood of bulls and goats to take away sins.
(Hebrews 10:3-4 (NIV))
With all of the talk about the Temple Mount and the building of the Third Temple, as followers of Jesus, we must remember that Jesus was the perfect sacrifice!
And by that will, we have been made holy through the sacrifice of the body of Jesus Christ once for all.
(Hebrews 10:10 (NIV))
We do not worship in a temple. We worship in spirit and in truth. We do not make sacrifices to atone for our sins. Jesus paid the price once for all. We do not need to sacrifice bulls or goats. All that we have to do is sacrifice our sinful pride and accept the gift of salvation freely given through the sacrifice that Jesus made on the cross! Through His sacrifice we can have our sins washed white as snow! We can be made holy and righteous by the Blood of Jesus!
For by one sacrifice he has made perfect forever those who are being made holy.
(Hebrews 10:14 (NIV))
We have been purchased!
We have been redeemed!
We have been made sons and daughters of God through the amazing grace freely given at the cross.
Are you a son or daughter of God? If you have not made this profession of faith, it is as easy as ABC.
A is for admit that you are a sinner in need of a savior.
B is for believe in your heart that Jesus Christ died for your sins, was buried, and that God raised Him from the dead.
C is for call upon the name of the Lord Jesus.
Salvation is found in no one else, for there is no other name under heaven given to mankind by which we must be saved."
(Acts 4:12 (NIV))
Only through the atoning blood of Jesus!
Copyright 1998 – 2023 Dennis J. Smock
Daily Living Ministries, Inc.
https://www.dailylivingministries.org
Support Daily Living Ministries
Subscribe to daily email delivery
Visit us on facebook