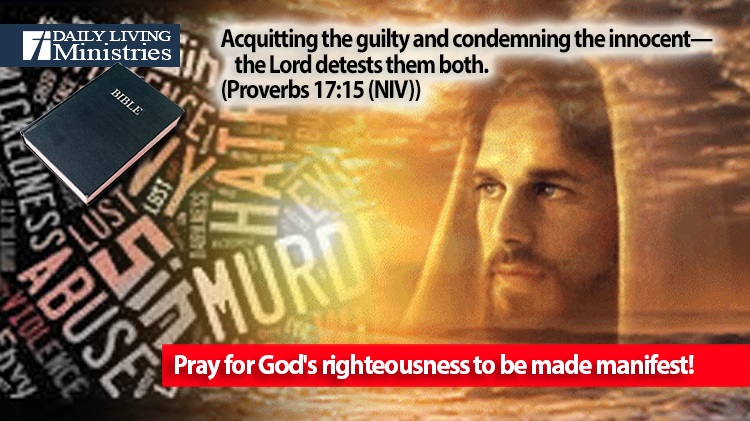 Be Still . . .
Devotionals for Daily Living ©
Acquitting the guilty and condemning the innocent—
     the Lord detests them both.
(Proverbs 17:15 (NIV))
Can you imagine what the Lord thinks about our current society?
I'm not going to go into any examples, for I am confident that you can come up with your own examples that fit this passage from Proverbs. All that I will say is that based on recent events, the Lord is probably not very happy with the way things are going. I will also take a moment to remind everyone that everything that is happening has not caught Him off guard. He has told us what would happen before it has happened. With that in mind, do you recognize the events that are transpiring in the world as prophetically significant? Do you even pay any attention to the things that are happening, or are you so engrossed in your own life that you can't see the proverbial forest for the trees?
When governments don't do what is right in the eyes of God, we have problems. When the courts don't do what is right in the eyes of God, wee have problems. When the media pushes an unholy agenda, we have problems. And, the one that gets me agitated the most is when the churches espouse a different gospel, or they don't follow Biblical principles, then we have problems.
When the righteous thrive, the people rejoice;
     when the wicked rule, the people groan.
(Proverbs 29:2 (NIV))
Are you groaning?
In the same way, the Spirit helps us in our weakness. We do not know what we ought to pray for, but the Spirit himself intercedes for us through wordless groans.
(Romans 8:26 (NIV))
Rest assured that the Lord sees and hears what is transpiring. When we see things in this world that go against what God calls good, we feel it in our spirit. We groan in agony over the wickedness that seems to get worse every day. We groan in agony over those who are lost in their sin. We groan in agony over the lies that the enemy has convinced far too many people that it is truth. We groan in agony over the churches who have bought into the lies.
But, we have another option to consider when we groan.
The Lord understands these groans as prayers, and they are as incense lifting up to Him. All that we need to remember is that everything is in His timing and not ours. We are called to be patient. We are called to be prayerful, and we are always called to share the Gospel with anyone and everyone who will listen. I have a challenge for you the next time that you see the guilty acquitted and the innocent condemned. I have a challenge for you when you see anything that is not righteous in the eyes of the Lord. Pray! Pray in agreement with what you know that the Lord desires, and never forget that groans are acceptable.
Pray for God's righteousness to be made manifest!
Copyright 1998 – 2023 Dennis J. Smock
Daily Living Ministries, Inc.
https://www.dailylivingministries.org
Support Daily Living Ministries
Subscribe to daily email delivery
Visit us on facebook