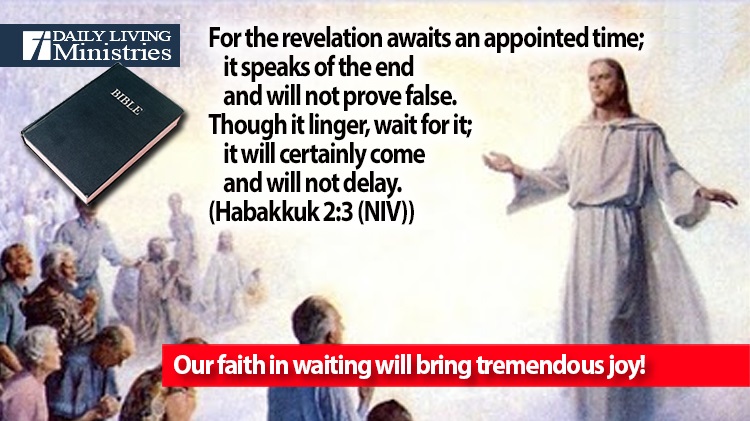 Be Still . . .
Devotionals for Daily Living ©
For the revelation awaits an appointed time;
     it speaks of the end
     and will not prove false.
Though it linger, wait for it;
     it will certainly come
     and will not delay.
(Habakkuk 2:3 (NIV))
Are you anxious for the Lord to reveal Himself and set everything right?
To be honest with you, believers have been longing for His return since the very day that He ascended into the clouds. The appointed time had not come and it is still not here. With all that is transpiring in the world at this time, many people believe that the appointed time could happen very soon. Some believe that it could happen by the time that the season changes to Fall.
Before Jesus walked this earth, prophets were giving us a glimpse into the mind of God. They relayed a message from God to those who long for His return because the Lord knows that we are an impatient creation. He reassured us that it will happen and that we are called to wait.
I don't like to wait!
Does that sound familiar? Are you like this as well? We want what we want and we want it now! Does that sound fair to all whom the Lord wants to bring to salvation before He returns?
The Lord is not slow in keeping his promise, as some understand slowness. Instead he is patient with you, not wanting anyone to perish, but everyone to come to repentance.
(2 Peter 3:9 (NIV))
I have been writing for almost twenty-five years that I believe that His appointed time is drawing close. I know that sounds like a long time, but we have to remember that God's timing is much different from ours. With what we are now seeing all around the world, even the most cautious and conservative Biblical scholars are saying that we need to keep our eyes focused on Jesus because all of the signs point to His soon return. Each day reveals more and more that we need to recognize as steps to the ultimate revelation at His appointed time.
Our faith in waiting will bring tremendous joy!
Copyright 1998 – 2022 Dennis J. Smock
Daily Living Ministries, Inc.
http://www.dailylivingministries.org
Support Daily Living Ministries
Subscribe to daily email delivery
Visit us on facebook