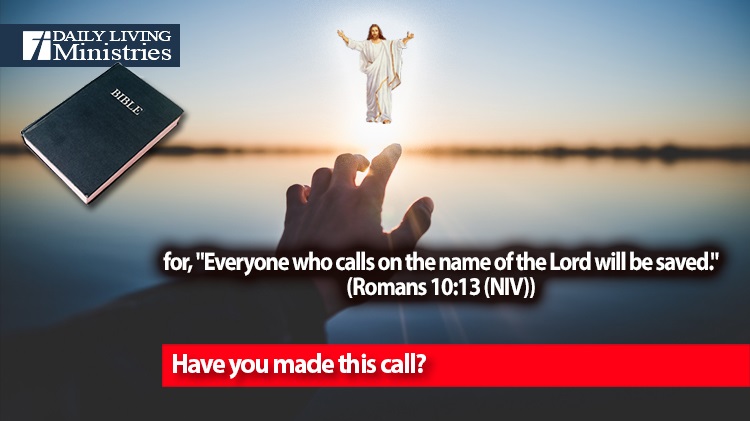 Be Still . . .
Devotionals for Daily Living ©
for, "Everyone who calls on the name of the Lord will be saved."
(Romans 10:13 (NIV))
It is amazing what pride will make us do!
It will make us do things that we shouldn't even attempt simply because we want to be better than someone else. I am certain that everyone has a story about themselves where this was the driving force behind your motives. In fact, if you are like me, you probably have multiple stories that ended not as you had planned and hoped that they would. Unfortunately, human nature is a sad and funny thing. It is greatly complicated when pride comes into play. In addition to making us do things that we honestly have no right to do, it will also keep us from doing things that we should do simply because pride makes us want to rebel.
If you truly stop to think about rebellion, the whole story of human existence since Adam and Eve has been one long story of rebellion, redemption and then more rebellion. Why would each human life be any different from humanity as a whole? Sadly, the greatest individual rebellion that can ever be made is denying Jesus and the salvation that is freely ours if we only accept. Pride makes us think that either we don't need saving or that we are too far gone to be saved. Pride keeps us from making a simple, heartfelt plea to the Lord. It keeps us from calling upon Jesus as our personal Lord and Savior.
For God so loved the world that he gave his one and only Son, that whoever believes in him shall not perish but have eternal life. For God did not send his Son into the world to condemn the world, but to save the world through him. Whoever believes in him is not condemned, but whoever does not believe stands condemned already because they have not believed in the name of God's one and only Son.
(John 3:16-18 (NIV))
It is a simple plan that God put in place, yet so many fail to believe. They fail to make that call.
Have you made this call?
Copyright 1998 – 2021 Dennis J. Smock
Daily Living Ministries, Inc.
http://www.dailylivingministries.org
Support Daily Living Ministries
Subscribe to daily email delivery
Visit us on facebook