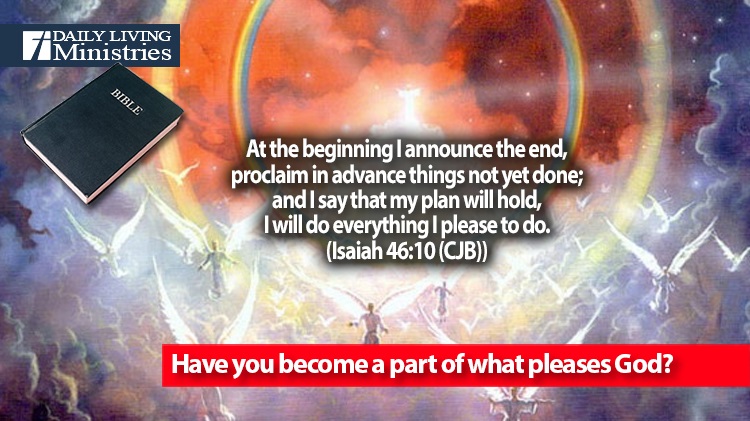 Be Still . . .
Devotionals for Daily Living ©
At the beginning I announce the end,
proclaim in advance things not yet done;
and I say that my plan will hold,
I will do everything I please to do.
(Isaiah 46:10 (CJB))
If you have followed me for any length of time, you will know that I use many different translations. I do this because the word choices made during translation can give you different insight into what was originally written. This particular translation went back to the original Hebrew texts. In fact, this translation is the English version of the Complete Jewish Bible.
Most of us who are Gentiles are familiar with this passage being translated like the English Standard Version translates it.
declaring the end from the beginning
     and from ancient times things not yet done,
saying, 'My counsel shall stand,
     and I will accomplish all my purpose,'
(Isaiah 46:10 (ESV))
Or, like the New International Version translates it.
I make known the end from the beginning,
     from ancient times, what is still to come.
I say, 'My purpose will stand,
     and I will do all that I please.'
(Isaiah 46:10 (NIV))
At first read, they all say the same thing, but I love the clarity of the Complete Jewish Bible translation. It clearly states that God has told us from the very beginning how He would unfold things to the end. It clearly tells us that He will proclaim His plans for the future and that His plans will not change. I especially love the last line of this translation.
I will do everything I please to do.
(Isaiah 46:10d (CJB))
What pleases God?
If you look back to Genesis and all of the times that God looked at His creation and said that it was good, it is no stretch of the imagination to come to the conclusion that His creation pleases God. Since His creation pleases Him, it stands to reason that He has devised a way to restore His creation to Himself. He told us that He would do it. He has told us at many points throughout His plan exactly what He would do, and He has kept every detail of His plan exactly as He foretold that it would transpire. He is working His plan of redemption because it pleases Him to restore us to the original relationship that He intended for us before the fall from grace in the Garden of Eden.
Are you aware of God's plans as He has proclaimed them? Have you personally become a part of His plans by accepting Jesus as your personal Lord and Savior? It is as easy as ABC.
A is for admit that you are a sinner in need of a savior.
B is for believe in your heart that Jesus Christ died for your sins, was buried, and that God raised Him from the dead.
C is for call upon the name of the Lord Jesus.
Have you become a part of what pleases God?
Copyright 1998 – 2021 Dennis J. Smock
Daily Living Ministries, Inc.
http://www.dailylivingministries.org
Support Daily Living Ministries
Subscribe to daily email delivery
Visit us on facebook