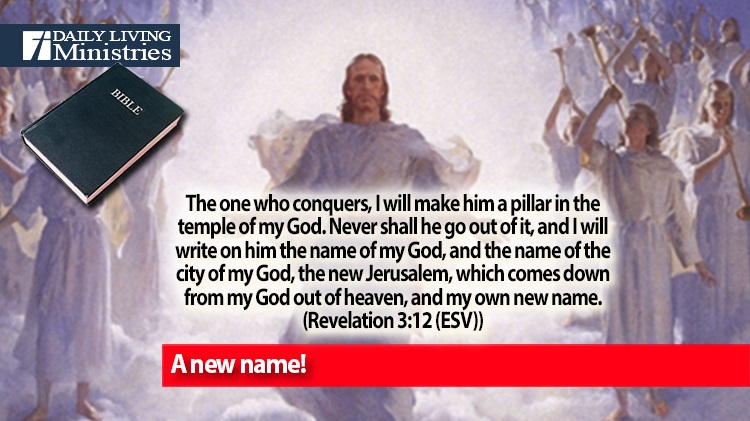 Be Still . . .
Devotionals for Daily Living ©
The one who conquers, I will make him a pillar in the temple of my God. Never shall he go out of it, and I will write on him the name of my God, and the name of the city of my God, the new Jerusalem, which comes down from my God out of heaven, and my own new name.
(Revelation 3:12 (ESV))
"and my own new name."
If you are like me, you have probably read this passage before and did not comprehend the meaning of the word recorded to the Church in Philadelphia.
There are three distinct names that will be written on those who hold on to what they have, who hold on to their faith in Jesus and the truth that comes from that faith.
1. The name of my God
2. The name of the city of my God, the new Jerusalem
3. Jesus' new name
Salvation is found in no one else, for there is no other name under heaven given to mankind by which we must be saved.
(Acts 4:12 (NIV))
I am only speculating, but does this mean that once everything has unfolded and we are in heaven with Jesus, He will have a new name because there will be no one left for Him to save? Yeshua, His Hebrew name, means a savior or a deliverer. It stands to reason, and inferred from this passage in Revelation, that this means that once this part of His persona is complete, He will take upon Himself a new name to reflect His new status in much the same manner that those who are victorious will be given a new name.
Whoever has ears, let them hear what the Spirit says to the churches. To the one who is victorious, I will give some of the hidden manna. I will also give that person a white stone with a new name written on it, known only to the one who receives it.
(Revelation 2:17 (NIV))
There are so many things contained within God's Word that we read and will only completely understand once they have unfolded according to His plan. They are the things that will probably happen just when we think that nothing could get any better. I don't profess to know what His new name will be, but I do know that it will be magnificent. I also know that I long to be in His presence when this day occurs for I love the current name, the name by which we are saved.
A new name!
Copyright 1998 – 2022 Dennis J. Smock
Daily Living Ministries, Inc.
http://www.dailylivingministries.org
Support Daily Living Ministries
Subscribe to daily email delivery
Visit us on facebook