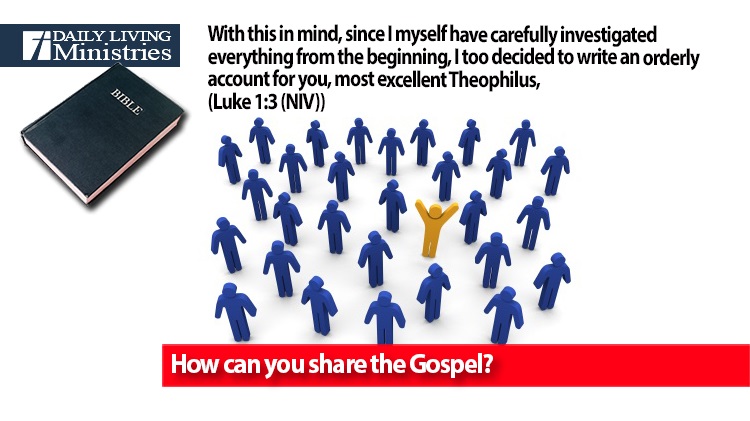 Be Still . . .
Devotionals for Daily Living ©
With this in mind, since I myself have carefully investigated everything from the beginning, I too decided to write an orderly account for you, most excellent Theophilus,
(Luke 1:3 (NIV))
Do you have an analytical mind?
Do you have to have facts in order to come to a conclusion about something, or do you like collecting and organizing facts in order to help others understand?
Luke appears to have been analytical, yet, I firmly believe that his collecting and organizing of the facts was not meant for himself. Rather it was meant to be able to record the events from a perspective other than the original disciples. Luke, as a physician, was a respected person and he relied on that to help spread the Good News of Jesus. He didn't shy away from recording and sharing what he knew to be true.
What is your profession?
Are there those whom you know who would listen to you when they won't listen to anyone else? Can you use your profession and your circle of influence to share the Gospel in a way that those who know you will take notice? Can you testify to the Good News of Jesus in a way that only you can achieve?
Luke was definitely not one of the original disciples, yet, he took what he had learned about Jesus and presented it in a way that has helped lead many to Jesus. Who shared the Good News with Luke? Did Luke share exactly the same way that was shared with him? He researched. He recorded his findings. He shared his findings with others. We are to research by searching the Scriptures. We are to share our findings with others. We are to testify!
Therefore go and make disciples of all nations, baptizing them in the name of the Father and of the Son and of the Holy Spirit,
(Matthew 28:19 (NIV))
It appears that Luke took stock of the gifts that he had been given and figured out how to use those gifts to spread the Gospel.
How can you share the Gospel?
Copyright 1998 – 2021 Dennis J. Smock
Daily Living Ministries, Inc.
http://www.dailylivingministries.org
Support Daily Living Ministries
Subscribe to daily email delivery
Visit us on facebook