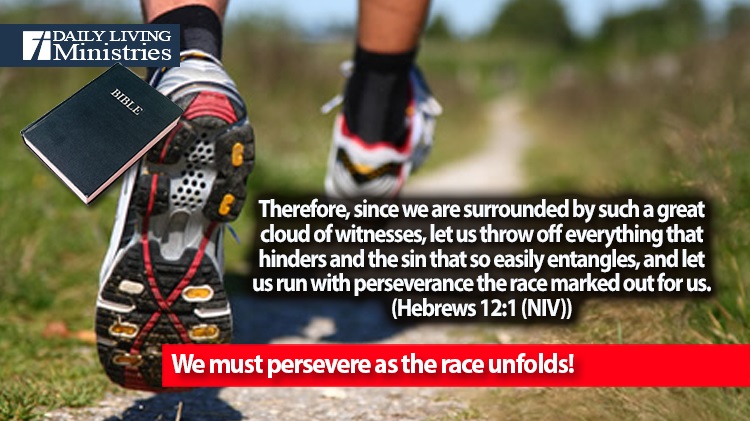 Be Still . . .
Devotionals for Daily Living ©
Therefore, since we are surrounded by such a great cloud of witnesses, let us throw off everything that hinders and the sin that so easily entangles, and let us run with perseverance the race marked out for us.
(Hebrews 12:1 (NIV))
How has the last year or so been for you?
I could probably stop there and say something about keeping your eyes focused on Jesus, but I feel that there is so much more to say about being able to persevere. With all of the things that have happened in the last year, and all of the things that continue to happen, we must not lose sight of where our hope comes from. With prices soaring for basic materials and supplies can't keep up with the demands, we appear to be facing the beginning of shortages. Now we are facing cyber attacks that threaten to bring us to a halt because oil and gas cannot flow. I honestly believe that things are going to get much worse than most people expect.
How does society handle this?
How do we, as the Body of Christ, handle this?
If ever there was a time to throw off everything that hinders, I believe that time is now. If ever there was a time to repent of the sin that entangles us, that time is now. We need to make sure that our lives are singularly focused on Jesus and not the world. If we look to the world, we will faint out of fear. If we look to Jesus, we can rest assured that He is our hope, that He is our strength, and that He is our strong tower!
The name of the LORD is a strong tower; The righteous run to it and are safe.
(Proverbs 18:10 (NKJV))
We can't claim righteousness if we cling to things that hinder and to the sin that entangles us. We can only claim righteousness if we accept the gift of grace that was freely given at the cross. We must repent! We must persevere in our faith. We must hold fast to the promises that we have been given through Jesus.
No one knows what tomorrow will bring, but we can have a good understanding of what is to come by staying in God's Word. We must be as diligent as watchmen. We must be constantly on guard for what the enemy is doing. We must not fall for the lies and the traps of the enemy. We must be alert and prepared. We must come together as the Body of Christ and hold fast to Jesus like never before!
We must persevere as the race unfolds!
Copyright 1998 – 2021 Dennis J. Smock
Daily Living Ministries, Inc.
http://www.dailylivingministries.org
Support Daily Living Ministries
Subscribe to daily email delivery
Visit us on facebook