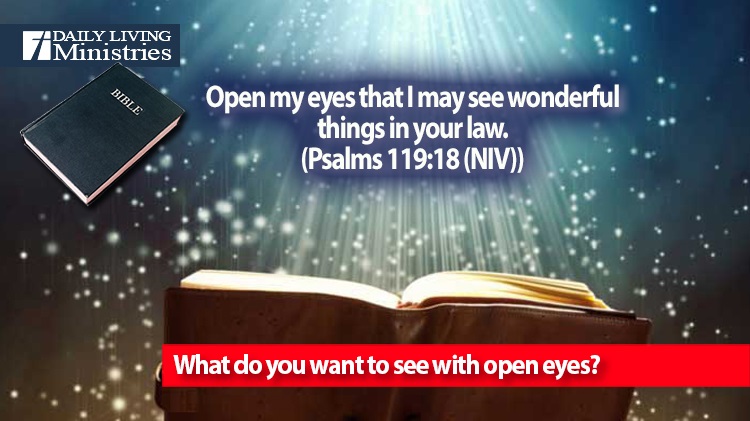 Be Still . . .
Devotionals for Daily Living ©
Open my eyes that I may see wonderful things in your law.
(Psalms 119:18 (NIV))
Do you pray to see things come to fruition that you want or do you pray for what God wants?
With that in mind, how do you see His law? Are they simply suggestions or are they the very foundation that you attempt to live you life upon? Do you simply read God's Word and let is spend as much time in your thoughts as it takes to move to the next sentence or do you read and reflect on each morsel of truth that His Word and His Law contain?
If you are like many people who give the proverbial lip service to worship, then your attitude toward His laws leaves something to be desired. There is no Reader's Digest condensed version that allows you to fully understand His truths. There is no Bible for Dummies that allows you to grasp the full meaning of what God wants us to know. There is no Cliff Notes on how to live a Godly life.
There are no shortcuts!
It takes a commitment and it takes time. It takes a commitment to spend time daily in His Word. It takes time to read, pray and truly understand His Word. This is especially true when you consider that the Bible is the Living Word. The more that you read and study, the more that you understand. It is possible to read the same passage each day for the rest of your life and come away each day with new insight into what God is saying through the very same words as each and every single day before. Don't adopt the attitude that you have read it and there is no need to read it again. Read and study it every single day of your life! Pray for discernment as you read. Pray for insight as you read. Pray for wisdom as you read.
Most of all, pray that God will open your eyes to the truly wonderful things that are in His Word and in His Law.
What do you want to see with open eyes?
Copyright 1998 – 2022 Dennis J. Smock
Daily Living Ministries, Inc.
https://www.dailylivingministries.org
Support Daily Living Ministries
Subscribe to daily email delivery
Visit us on facebook