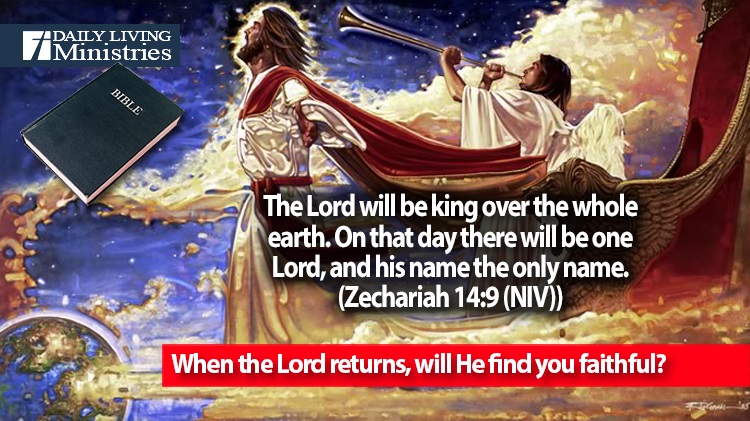 Be Still . . .
Devotionals for Daily Living ©
The Lord will be king over the whole earth. On that day there will be one Lord, and his name the only name.
(Zechariah 14:9 (NIV))
Do you look forward to this day?
Did you answer with an emphatic and enthusiastic "Yes" or did you find yourself thinking that there are things that you want to do and see in this world before this happens? What did your answer tell you about your priorities?
I realize that I just asked a string of questions, but these questions are designed to get you to take an honest look at your life, your faith, and your relationship to the Lord. If you find yourself hoping that the day spoken of in Zechariah doesn't happen anytime soon, what does that say about your priorities? Do you love the world more than you love the Lord? Are you holding out hope that things will get better in this sinful, fallen world, or do you truly desire to see the Lord?
It is time to commit! It is time to stand firm in your faith. It is time to focus on the Lord. Don't be lukewarm!
I know your deeds, that you are neither cold nor hot. I wish you were either one or the other! So, because you are lukewarm—neither hot nor cold—I am about to spit you out of my mouth. You say, 'I am rich; I have acquired wealth and do not need a thing.' But you do not realize that you are wretched, pitiful, poor, blind and naked.
(Revelation 3:15-17 (NIV))
Stop looking to the world!
Start looking only to Jesus!
To the one who is victorious, I will give the right to sit with me on my throne, just as I was victorious and sat down with my Father on his throne. Whoever has ears, let them hear what the Spirit says to the churches."
(Revelation 3:21-22 (NIV))
When the Lord returns, will He find you faithful?
Copyright 1998 – 2021 Dennis J. Smock
Daily Living Ministries, Inc.
http://www.dailylivingministries.org
Support Daily Living Ministries
Subscribe to daily email delivery
Visit us on facebook