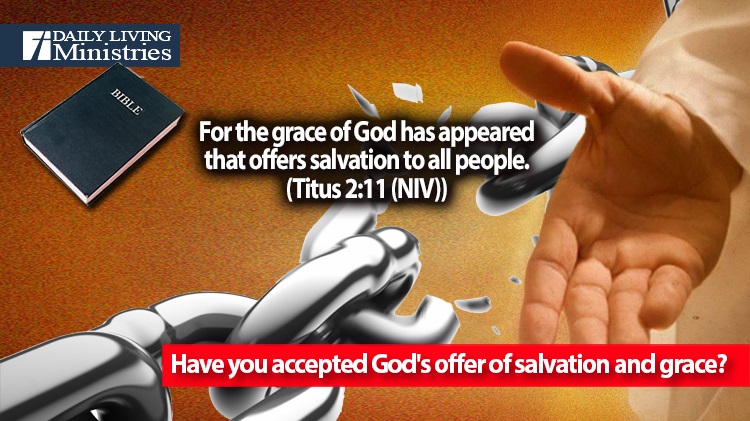 Be Still . . .
Devotionals for Daily Living ©
For the grace of God has appeared that offers salvation to all people.
(Titus 2:11 (NIV))
Salvation!
That is a word that brings up a multitude of thoughts and contradictions in the minds of many. Many of us seek it. Far too many believe that they are beyond all hope of receiving it, and sadly, there are those who seem to think that they don't need it. What is it about the concept of salvation that has people seeing it from so many different sides?
Perhaps it is a matter of perspective. That perspective that I speak of is how we see ourselves. We can see ourselves as our own personal gods, which indicates that we think that we don't need salvation. We can see ourselves as the results of evolution, which also indicates that we think that we don't need salvation. We can see ourselves as so far gone that nobody could want us, that nobody could want to save us, and then there are those who see themselves as sinners in a fallen world without a way to escape the consequences of our sins. I am sure that there are other scenarios, but I hope that you understand that people have a choice. We have to make up our own minds. Perhaps that is why it says that God offers salvation. He can't make us accept it, but He can freely offer it to anyone who is willing to accept this wonderful gift of grace.
Once we accept God's offer, we accept the fact that we need spiritual maturity and that we need to be taught God's ways and desires for our lives. It teaches us that we must put aside our sinful nature. We must repent and live according to His Word. It teaches us that something better is coming and that we should eagerly wait for His return.
It teaches us to say "No" to ungodliness and worldly passions, and to live self-controlled, upright and godly lives in this present age, while we wait for the blessed hope—the appearing of the glory of our great God and Savior, Jesus Christ, who gave himself for us to redeem us from all wickedness and to purify for himself a people that are his very own, eager to do what is good.
(Titus 2:12-14 (NIV))
Salvation means so much more than being saved from the consequences of our sins. It means that we are saved from the ungodliness and worldly passions that permeate this world. It means that we hold firm to the promises that He will return for us. It means a change of heart and a change of mind. It also means a change of citizenship from that of one in this world to that of one eternally in the Father's presence.
It is your choice what to do with God's offer.
Have you accepted God's offer of salvation and grace?
Copyright 1998 – 2022 Dennis J. Smock
Daily Living Ministries, Inc.
http://www.dailylivingministries.org
Support Daily Living Ministries
Subscribe to daily email delivery
Visit us on facebook