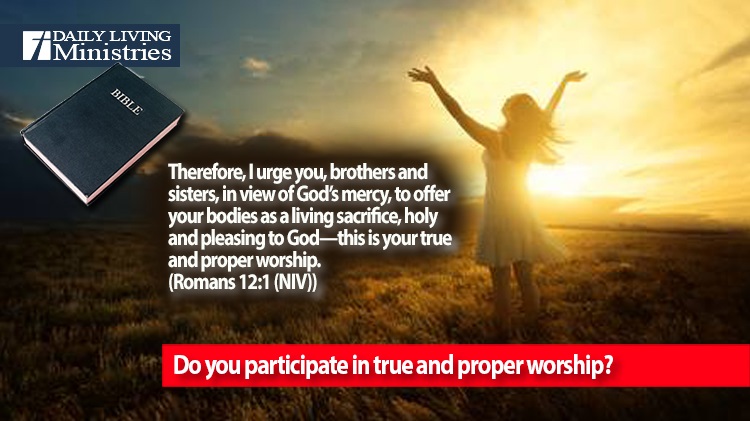 Be Still . . .
Devotionals for Daily Living ©
Therefore, I urge you, brothers and sisters, in view of God's mercy, to offer your bodies as a living sacrifice, holy and pleasing to God—this is your true and proper worship.
(Romans 12:1 (NIV))
I want you to read that passage again and let it sink in.
If we profess a faith in Jesus, we are called to leave behind the things of this world. We are called to leave behind the sin that had us enslaved. We are called to repent and follow Jesus in all that we do!
Have you ever truly considered what that looks like in relation to this passage?
When the sacrificial system was in place at the temple in Jerusalem, the animals that were to be sacrificed were to be spotless. They were to be perfect with no blemishes or defects. How do we offer our bodies as a living sacrifice if we are to offer our best to God?
Do we let our bodies get obese if we can control it?
Do we fill our bodies with alcohol and drugs?
Do we abuse our bodies in ways that cause harm?
Take a look at your life and how you treat your body. Is it pleasing to God?
Do you participate in true and proper worship?
Copyright 1998 – 2022 Dennis J. Smock
Daily Living Ministries, Inc.
https://www.dailylivingministries.org
Support Daily Living Ministries
Subscribe to daily email delivery
Visit us on facebook