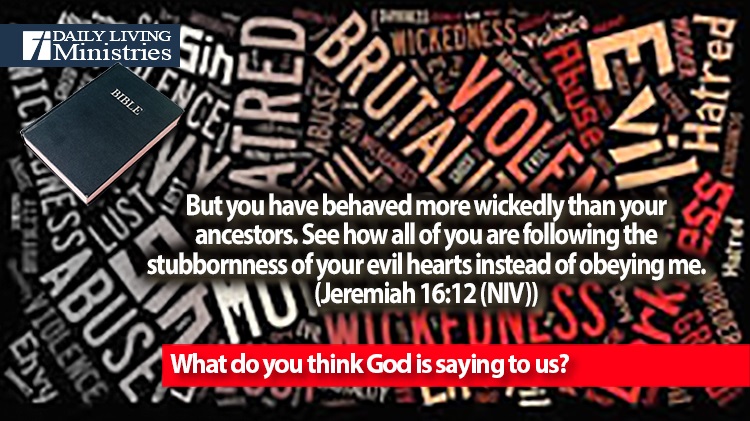 Be Still . . .
Devotionals for Daily Living ©
But you have behaved more wickedly than your ancestors. See how all of you are following the stubbornness of your evil hearts instead of obeying me.
(Jeremiah 16:12 (NIV))
If God was speaking to Israel through Jeremiah because of their sin, what would He be saying to this world today?
God was using Jeremiah to remind Israel of the covenant that He had made with their ancestors to bring them out of Egypt and to give them the land if they would be obedient to His commands. He also used Jeremiah to remind the people of the consequences of their ancestors forsaking Him.
"When you tell these people all this and they ask you, 'Why has the Lord decreed such a great disaster against us? What wrong have we done? What sin have we committed against the Lord our God?' then say to them, 'It is because your ancestors forsook me,' declares the Lord, 'and followed other gods and served and worshiped them. They forsook me and did not keep my law.
(Jeremiah 16:10-11 (NIV))
It did not stop there. He then used Jeremiah to tell the people that they were worse than their ancestors!
We don't have a way to look back in history and see Israel's society firsthand. All we have is God's Word and that they followed other gods. What do you think that they did?
Did they sacrifice their children? We do this to the god of convenience.
Did they worship and idolize wealth and fame? Our society does.
Did they ignore God? We do much more than this.
Did they lust after things of the flesh and abandon God's order? It is called a lifestyle choice.
Did they practice witchcraft and sorcery? Do I even need to say what our society does?
I could probably go on and on with speculations on what they did. I could also go on and on about the things that are happening in our society today, and even in our churches, and I am certain that you would sadly see many similarities. Do I venture to say that you would even see worse things today?
Are there any Jeremiah's in the world today? Is there anyone who is telling God's truth and telling the world that we are behaving more wickedly than our ancestors? Is there anyone who is calling people to repent of their wicked ways and to turn to Jesus? We think that we are better than our ancestors, but how many people spend time daily in God's Word? Our ancestors did? How many people fear the consequences of sin? Our ancestors did. How many people have accepted sin as a lifestyle choice? Our ancestors didn't do that! If we profess to have a faith in Jesus as our personal Lord and Savior, but do not hold fast to the truths that He taught, have we forsaken our faith? Have we accepted a sugarcoated false gospel?
What do you think God is saying to us?
Copyright 1998 – 2022 Dennis J. Smock
Daily Living Ministries, Inc.
http://www.dailylivingministries.org
Support Daily Living Ministries
Subscribe to daily email delivery
Visit us on facebook