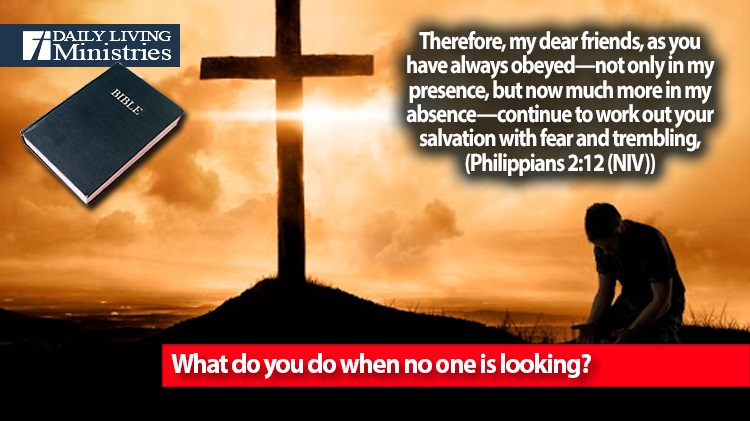 Be Still . . .
Devotionals for Daily Living ©
Therefore, my dear friends, as you have always obeyed—not only in my presence, but now much more in my absence—continue to work out your salvation with fear and trembling,
(Philippians 2:12 (NIV))
When the cat's away, the mice will play!
That doesn't appear to be the case with the church at Philippi. From what I have read, Philippi was a colony of retired Roman soldiers who were used to following orders, even in the absence of their commanding officer. Jesus encountered this obedience when He was asked by a Roman centurion to heal his servant.
"Lord," he said, "my servant lies at home paralyzed, suffering terribly."
Jesus said to him, "Shall I come and heal him?"
The centurion replied, "Lord, I do not deserve to have you come under my roof. But just say the word, and my servant will be healed. For I myself am a man under authority, with soldiers under me. I tell this one, 'Go,' and he goes; and that one, 'Come,' and he comes. I say to my servant, 'Do this,' and he does it."
(Matthew 8:6-9 (NIV))
With this characteristic ingrained into their lives, this makes perfect sense with respect to the words that Paul wrote to them about being obedient, even when he was not with them.
Are we able to be as obedient to God's Word as these early believers were no matter who we are around and no matter where we may be? The church at Philippi was made up of Gentiles, hardened Roman soldiers, who eagerly embraced the truth and were able to be obedient to the truth under any circumstances. We look back at the early believers and we think that we could have been a follower of Jesus at that time, but are we truly being obedient, are we truly being a follower of Jesus in a society that has almost two thousand years of acceptance? Are we so easily swayed by the temptations of this world that we begin to play?
Would Paul commend us for being obedient?
Would Jesus commend us for being obedient while He has been away?
His master replied, 'Well done, good and faithful servant! You have been faithful with a few things; I will put you in charge of many things. Come and share your master's happiness!'
(Matthew 25:21 (NIV))
Do we find ourselves turning back to our sins when we think that no one is looking?
What do you do when no one is looking?
Copyright 1998 – 2021 Dennis J. Smock
Daily Living Ministries, Inc.
http://www.dailylivingministries.org
Support Daily Living Ministries
Subscribe to daily email delivery
Visit us on facebook