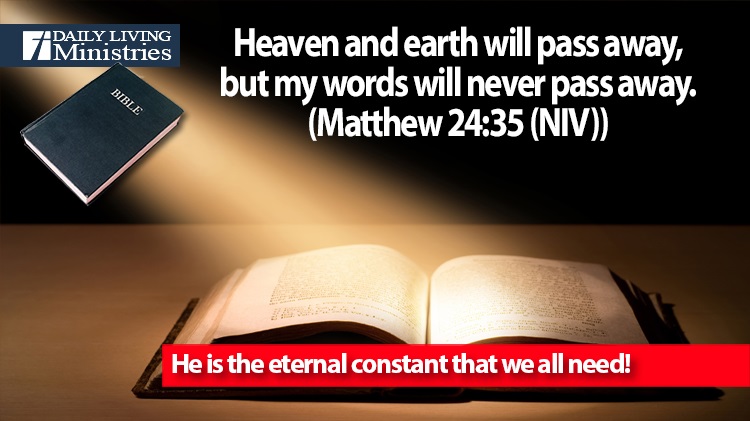 Be Still . . .
Devotionals for Daily Living ©
Heaven and earth will pass away, but my words will never pass away.
(Matthew 24:35 (NIV))
With everything that is going on in the world, is there anything that is constant in your life? Is there anything that you can always count on to be the same no matter when you encounter it and where you encounter it?
If the last year or two has taught us anything, it has taught us that nothing in this world can be trusted to never change. We have seen this exact thing with basically everything that we took for granted being completely upended. Be honest with yourself. Is there anything that has remained constant for you over the last two to three years? Have you changed how you do your job? Have you changed where you do your job? Have you changed how you look at public events and gatherings? Have you changed how you interact with people in general? Do you find yourself saying that you wish things would get back to normal?
What if they never do?
What do you cling to when all around you is chaos?
What can we count on to provide us with that constant, eternal guidance and direction when all around us is constantly changing right before our eyes?
As for God, his way is perfect;
     the word of the LORD is flawless.
(2 Samuel 22:31a (NIV))
The grass withers and the flowers fall,
     but the word of our God stands forever.
(Isaiah 40:8 (NIV))
In this world of uncertainty and change, isn't it good to have something that you can lean on not only in times of trouble, but also in times of good. God's Word is our strength. It is our hope.
In God, whose word I praise,
     in God I trust; I will not be afraid.
     What can mortal man do to me?
(Psalms 56:4 (NIV))
Jesus is that Word. He is our hope. He is our salvation.
The Word became flesh and made his dwelling among us. We have seen his glory, the glory of the One and Only, who came from the Father, full of grace and truth.
(John 1:14 (NIV))
Jesus is the Word made flesh. He has given us promises. He has given us hope. Even though He was crucified, dead and buried, He arose on the third day and now sits at the right hand of God the Father. He is our eternal King. He is our eternal hope. His words never change just as He never changes. He has told us that we would face troubles in this world, and troubles are ever increasing. He has also assured us that He has overcome the world. When this world overwhelms you, simply look to Jesus.
He is the eternal constant that we all need!
Copyright 1998 – 2021 Dennis J. Smock
Daily Living Ministries, Inc.
http://www.dailylivingministries.org
Support Daily Living Ministries
Subscribe to daily email delivery
Visit us on facebook