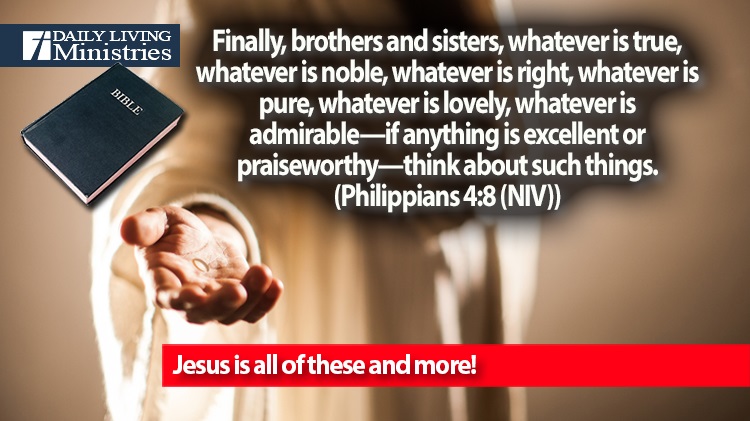 Be Still . . .
Devotionals for Daily Living ©
Finally, brothers and sisters, whatever is true, whatever is noble, whatever is right, whatever is pure, whatever is lovely, whatever is admirable—if anything is excellent or praiseworthy—think about such things.
(Philippians 4:8 (NIV))
It is difficult to find anything in this world that fulfills one of these traits, let alone all of them.
When was the last time that you encountered something that was true and also praiseworthy?
Have you ever encountered something that was noble as well as excellent?
Is there anything in this world that you consider to be right that is also admirable?
Have you ever met anyone who is lovely and is also pure of heart?
I just stated a few of the possible combinations, and I think that it is safe to say that you probably have not been able to think of anything that comes close to meeting these simple combinations of traits. If you doubt that, just look at the combination of lovely and pure of heart. Most people who the world considers lovely and far from pure of heart. Vanity, ego and self love are the usual traits that go with this outward trait of loveliness. I honestly don't think that I need to go into details about the other combinations, for they are also difficult to achieve.
But, . . .
There is One who fits these characteristics and is worthy of our thoughts and praise! His name is Jesus! There is none like Him. He is fully God. He is fully man. He is the bright morning star. He is our Lord. He is our redeemer. He is our Savior, and He is sitting at the right hand of God the Father. He alone is worthy. He alone is true, noble, right, pure, lovely, admirable, excellent and praiseworthy!
Jesus is all of these and more!
Copyright 1998 – 2022 Dennis J. Smock
Daily Living Ministries, Inc.
https://www.dailylivingministries.org
Support Daily Living Ministries
Subscribe to daily email delivery
Visit us on facebook