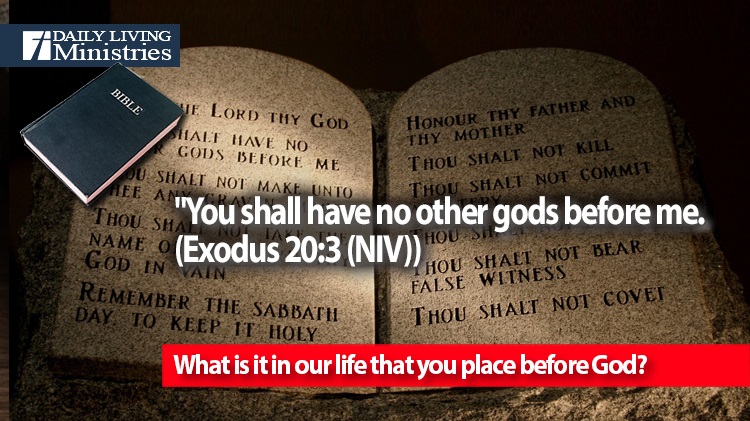 Be Still . . .
Devotionals for Daily Living ©
"You shall have no other gods before me.
(Exodus 20:3 (NIV))
We know that this is the first Commandment that God gave to Moses on Mount Sinai, and ever since then the Judeo-Christian ethic has placed its foundation on the complete Ten Commandments.
We know that in the End Times there will be a false religion that will control the whole world. We also know that Satan loves to counterfeit whatever God has done. The most recent counterfeit, and possibly the biggest counterfeit to date, just occurred also on Mount Sinai. Religious leaders met and went to Mount Sinai to unveil 10 new commandments about the rapidly growing religion of climate change and worship of the earth.
They are worshiping the creation instead of the Creator!
Do we have our one world religion that we have been told about in God's Word?
Is this how the enemy has convinced all religions to come together? Have these people been duped into worshipping the planet?
I honestly cannot understand how this can happen, yet, I know full well that God foretold that it would happen. I also know that it is happening right in front of our eyes!
It is time to take a serious look into what you have placed as your god, and repent immediately. It is time to accept the gift of grace freely given on the cross through the atoning blood of Jesus. It is time to make sure that the God of the Bible is the only One that is being worshipped.
I firmly believe that, with all that I am seeing, time is short. Now is the time to repent and profess a faith in Jesus as your personal Lord and Savior!
What is it in our life that you place before God?
Copyright 1998 – 2022 Dennis J. Smock
Daily Living Ministries, Inc.
https://www.dailylivingministries.org
Support Daily Living Ministries
Subscribe to daily email delivery
Visit us on facebook