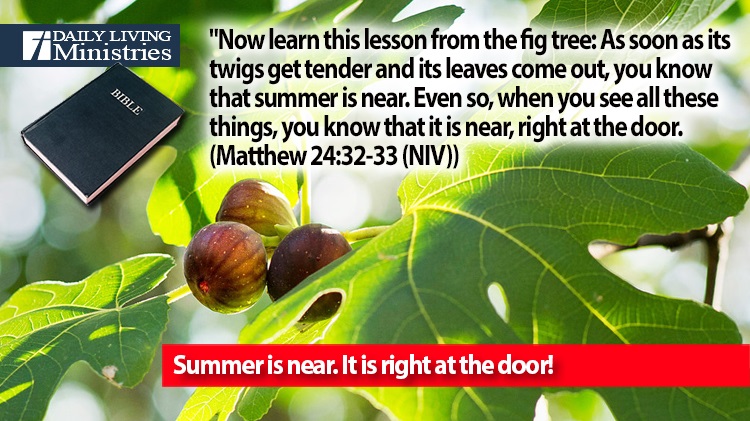 Be Still . . .
Devotionals for Daily Living ©
"Now learn this lesson from the fig tree: As soon as its twigs get tender and its leaves come out, you know that summer is near. Even so, when you see all these things, you know that it is near, right at the door.
(Matthew 24:32-33 (NIV))
What is your understanding of the role that Israel plays in the current state of the world and it's future?
Think about that in relation to this passage and the fact that the fig tree is a symbol of the nation of Israel. In fact, it is widely accepted that the creation of the state of Israel in 1948 marks the fig tree coming back to life! Its leaves are out after many years of dormancy. It is also accepted that when Jesus cursed the fig tree, He was using that as a teachable moment for His disciples. They understood the association of the fig tree with Israel.
Early in the morning, as Jesus was on his way back to the city, he was hungry. Seeing a fig tree by the road, he went up to it but found nothing on it except leaves. Then he said to it, "May you never bear fruit again!" Immediately the tree withered.
(Matthew 21:18-19 (NIV))
Israel had rejected Jesus. They did not bear any fruit as a result of His coming to earth, and as such, Jesus pronounced judgment on Israel through the analogy of the fig tree.
But now, . . .
Israel has become a nation once again. The fig tree has sprouted leaves and summer is upon us!
Do you understand what that means? Do you understand that this indicates the soon end of the time of the Gentiles and that God will focus once again on fulfilling His dealings with Israel. We are very close to Daniel's seventieth week!
It is well known that the generation that sees Israel return to their homeland shall not pass away before these things begin. Do you know anyone who was born in 1948? Do you know anyone who was born before 1948? I hate to say this, but each day sees fewer and fewer people alive who witnessed Israel become a nation again. This reminds me of an old saying that God is never early and that He is never late. Everything works according to His timing and based on the scriptures that we have been given, His timing is unfolding right before our eyes. It is unfolding in such a way that even though I was not alive in 1948, I expect to see God move in a mighty way very soon. I believe that we are in the days of the fig tree generation.
Summer is near. It is right at the door!
Copyright 1998 – 2022 Dennis J. Smock
Daily Living Ministries, Inc.
http://www.dailylivingministries.org
Support Daily Living Ministries
Subscribe to daily email delivery
Visit us on facebook