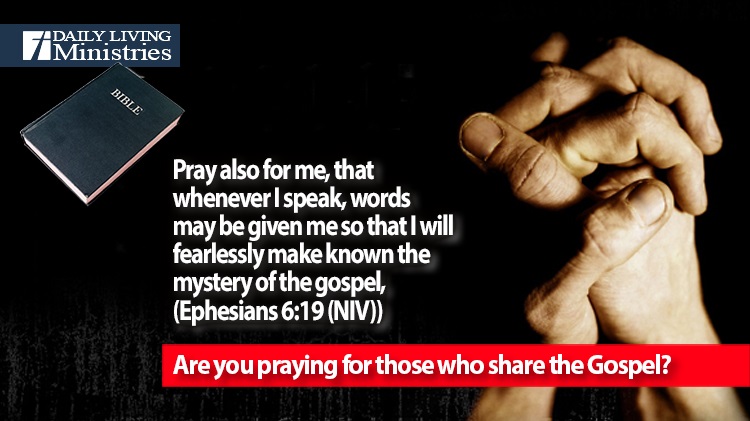 Be Still . . .
Devotionals for Daily Living ©
Pray also for me, that whenever I speak, words may be given me so that I will fearlessly make known the mystery of the gospel,
(Ephesians 6:19 (NIV))
Did you realize that Paul coveted the prayers from those whom he had ministered and taught so that he could reach others for Jesus?
Think about the implications of that concept. Paul, even though we consider him to be the man who took the Gospel to the Gentiles, realized that he is not capable of anything in his own strength. He wanted, or should I say that he needed constant under girding through the prayers of others for his ministry. He specifically asked them to pray that he be given the words that will fearlessly make the Gospel known. He realized that he is nothing without the power and guidance of the Lord. He realized that his words were useless, but the words spoken by the Holy Spirit through him were powerful beyond anything that any human could comprehend.
Take a look at the times in your life when you felt inadequate, when you felt at a loss for what to say. If you are like me, you simply stop and pray to be given the right words to reach the people who need to hear them. That is probably what Paul did as well, but he took it up a notch and asked for others to pray the same thing for him. Paul realized the power of prayer and he earnestly asked for the prayers of others.
The prayer of a righteous person is powerful and effective.
(James 5:16b (NIV))
We don't hesitate to seek the prayers of others when we need God to intervene in our own lives. Let's use this same approach and join in praying that we can fearlessly make the Gospel known. We must pray for ourselves and others to be given the words that will lead others to the saving knowledge of Jesus. If Paul, whom we consider to be a man who opened the Gospel to the world beyond Israel, earnestly asked for prayer to be able to fulfill his calling, then why should we think that we don't need to do the same thing? Have we had Jesus appear to us in such a way that our whole life was changed? Are we stronger in our faith than Paul? Have we walked from country to country preaching and teaching the good news of Jesus? Are we as committed as Paul?
I know that I am nothing in God's plans. He could easily raise up someone else to reach those whom He has called me to reach. My prayer for myself is that He continue to give me the words to share that will draw people closer to Jesus. In fact, like Paul, I covet your prayers for this. I ask for your prayers as I continually seek His wisdom each day. I also pray that you will open your heart to being prayed for. Every day that I sit down to do this, I pray for the Lord to give me the words that He would have me to say to reach whom He needs me to reach. In praying this, I also pray for the unknown-to-me individuals whom God has directed to what He has had me send.
I do not take these devotionals lightly. For the last twenty-five years, I have made it a point to not put my name front and center, for these are not about me. I take the following passage very seriously.
Not many of you should become teachers, my fellow believers, because you know that we who teach will be judged more strictly.
(James 3:1 (NIV))
With that in mind, I ask for each of you to pray for those who share God's word, whether in full time ministry or in daily living. Pray that we seek His truth before we write or speak. Pray that we choose to use the words that God has given us. Pray that we stand firm in the seriousness of what we do.
Are you praying for those who share the Gospel?
Copyright 1998 – 2022 Dennis J. Smock
Daily Living Ministries, Inc.
https://www.dailylivingministries.org
Support Daily Living Ministries
Subscribe to daily email delivery
Visit us on facebook