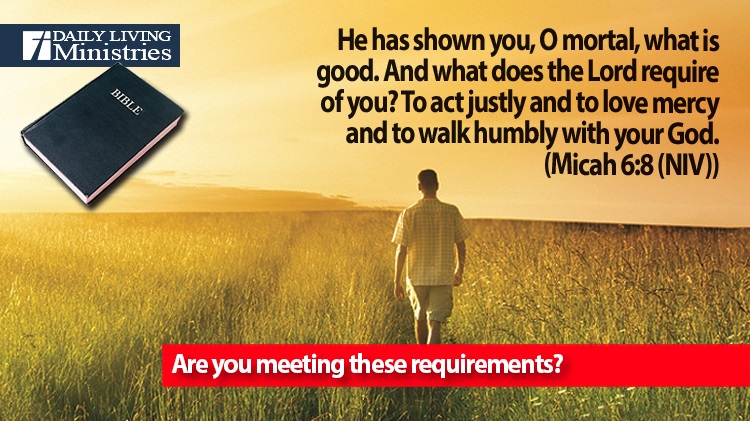 Be Still . . .
Devotionals for Daily Living ©
He has shown you, O mortal, what is good. And what does the Lord require of you? To act justly and to love mercy and to walk humbly with your God.
(Micah 6:8 (NIV))
We are required to do three things. I started to say that we are required to do three simple things, but with the history that humanity has, these three things are not simple to do. Humanity has failed miserably at these three things ever since the fall from grace in the Garden of Eden.
How do you do with respect to these three requirements?
Do you act justly one hundred percent of the time or do you find yourself showing favoritism or even selfishness at times? Do you think of others or do you only look out for yourself? Take a long hard look at your motives and your actions before you say whether you act justly.
Do you love mercy at all times or do you find yourself only desiring mercy when it is applied to you? Do you hold a grudge against someone for something that they did to you? Are you willing to forgive?
For if you forgive other people when they sin against you, your heavenly Father will also forgive you.
(Matthew 6:14 (NIV))
Do you walk humbly with your God at all times or do you sometimes forget the relationship that you have with God as the Creator while you are the creation? Do you try to tell God how He should do things? Do you try to convince God that you should be His priority because everyone around you is not worth His time? Do you suffer from the dreaded human characteristics of ego and pride?
Pride goes before destruction, a haughty spirit before a fall.
(Proverbs 16:8 (NIV))
Based on these three requirements, every single one of us has very severe shortcomings. If we were undergoing a performance evaluation for our employment based on these three requirements, what type of evaluation would be recorded for you? Isn't God's evaluation of us based on these three requirements so much more important than a job evaluation? If we can't successfully pass a worldly evaluation, how can we expect to pass God's evaluation of us?
I know that we have been given grace through the atoning blood of Jesus, but that does not excuse us from continuing to do poorly on these three requirements. We are called to mature in our faith, in our walk with Jesus, so that we begin to take on the very characteristics of Christ. In this world, we will never be perfect, but we are called to be continually perfected in order to reflect Jesus in all that we do.
Are you meeting these requirements?
Copyright 1998 – 2021 Dennis J. Smock
Daily Living Ministries, Inc.
http://www.dailylivingministries.org
Support Daily Living Ministries
Subscribe to daily email delivery
Visit us on facebook