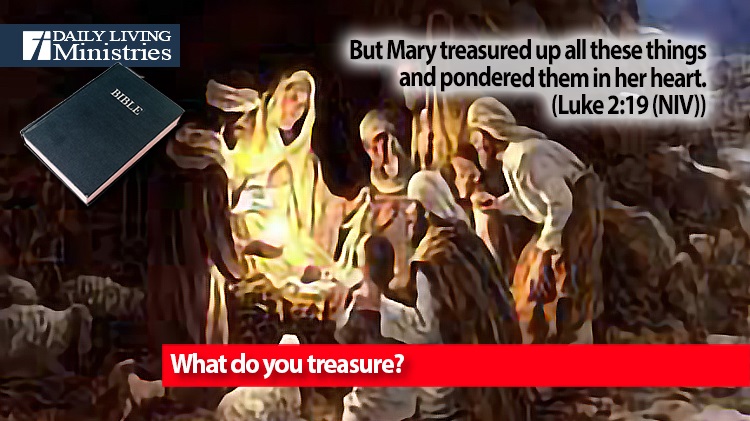 Be Still . . .
Devotionals for Daily Living ©
But Mary treasured up all these things and pondered them in her heart.
(Luke 2:19 (NIV))
When you are the mother of Jesus, what else would you treasure?
For where your treasure is, there your heart will be also.
(Matthew 6:21 (NIV))
For the rest of us who did not experience the angel announcing that she had found favor in the eyes of God and that she was chosen to be the mother of His Son, we have to work to make sure that we treasure Jesus. With that said, have you ever truly given any thought to all that Mary experienced? The next questions can even be answered by the men reading this. Have you ever tried to imagine the wide range of emotions that Mary felt from conception to birth? How would you react if you were told that you had found favor in the eyes of God? How would you react if you were the only one in all of history to be told that?
Did those last questions leave you speechless?
We are only to worship the Lord, but can you even begin to comprehend, to imagine, the faith that Mary possessed? God used such an obedient faith to bring forth His Son into the world. Even though she found favor, Mary was not the Savior. She was only the vessel. The child that she bore was and is the Savior of all mankind.
In today's world, we must never forget to always look to Jesus and not to the one who brings the Good News. We must remember that Jesus is the message and anyone who spreads the Gospel is only the messenger. We must make sure that we only treasure Jesus!
What do you treasure?
Copyright 1998 – 2021 Dennis J. Smock
Daily Living Ministries, Inc.
http://www.dailylivingministries.org
Support Daily Living Ministries
Subscribe to daily email delivery
Visit us on facebook