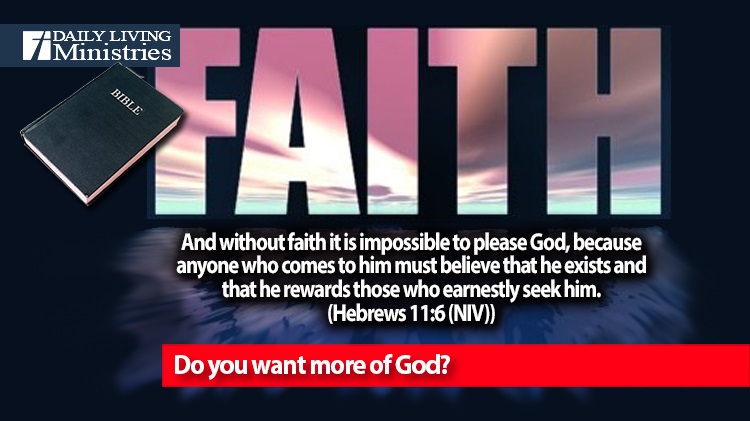 Be Still . . .
Devotionals for Daily Living ©
And without faith it is impossible to please God, because anyone who comes to him must believe that he exists and that he rewards those who earnestly seek him.
(Hebrews 11:6 (NIV))
I can't believe what I just watched!
I may make some people mad, but this sounds like a Pharisee's teaching to me. A short video was put out by a denominational preacher and he was criticizing what is happening on many college campuses saying that it couldn't be real because it was not his denomination. Correct me if I am wrong, but Jesus did not come to baptize people into denominations. Denominations didn't exist until man decided to divide what Jesus came to unite! He also pointed out as another ridiculous reason that it wasn't real was because they were not preaching from God's true word, the King James Bible. Correct me if I am wrong, but Jesus DID NOT speak King James English! He also criticized what is happening because they were playing modern music and not hymns. Correct me if I am wrong, but at the time the hymns were created they were considered modern music. They were written to allow the people of that age to worship in song. Another criticism was that the people in attendance were not conducting themselves in a proper manner. He criticized those in attendance for being charismatic. As I recall, David danced before the Lord. He also did many things that went against the traditions of those in authority, yet he was elevated by God.
After removing Saul, he made David their king. God testified concerning him: 'I have found David son of Jesse, a man after my own heart; he will do everything I want him to do.'
(Acts 13:22 (NIV))
Do you believe that God exists?
Do you earnestly seek the Lord?
Do you desire to please God?
Take a look back at every time that God moved in some miraculous way. Take a look at Pentecost when the Holy Spirit came to the believers. To quote the King James Version, God is not a respecter of persons!
For there is no respect of persons with God.
(Romans 2:11 (KJV))
God will use anyone who eagerly desires to seek Him. You do not have to be part of a certain group. He does not care if you are Jew or Gentile, male or female, young or old. All that He desires is a heart that seeks for more of Him in all aspects of your life.
Do you want more of God?
Copyright 1998 – 2023 Dennis J. Smock
Daily Living Ministries, Inc.
https://www.dailylivingministries.org
Support Daily Living Ministries
Subscribe to daily email delivery
Visit us on facebook