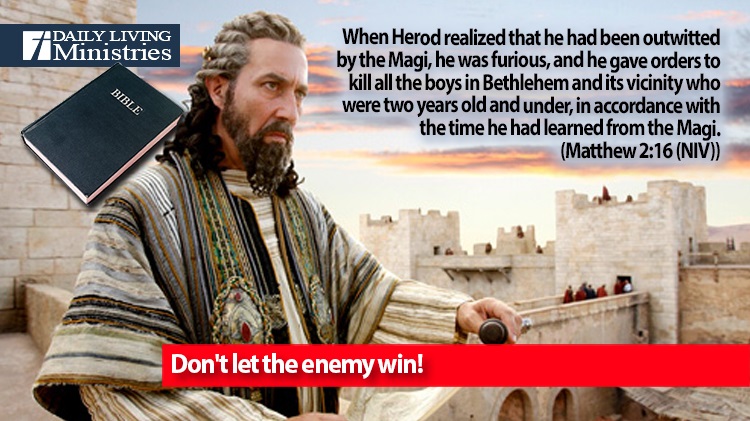 Be Still . . .
Devotionals for Daily Living ©
When Herod realized that he had been outwitted by the Magi, he was furious, and he gave orders to kill all the boys in Bethlehem and its vicinity who were two years old and under, in accordance with the time he had learned from the Magi.
(Matthew 2:16 (NIV))
The Magi knew that Herod meant to kill Jesus. God had told them of Herod's intentions. When evil doesn't get what it wants, it lashes out in anger resulting in untold harm to whoever gets in the way. Herod was acting out of the physical nature for he did not want his throne to be taken from him. However, we know that Satan had a hand in Herod's anger. Satan wanted Jesus dead more than Herod did. In Herod's mind, he only stood to lose his throne, while Satan stood to face eternal defeat and the lake of fire. Satan really didn't want God's only begotten Son, Jesus, to survive and fulfill what He had come to do. In anger, he lashed out through Herod at the innocent and had untold numbers of innocent boys killed.
Have you ever seen someone lash out in pure hatred, pure evil?
We are seeing things like this in our society today, and it will probably only get worse as we get closer to the soon return of Jesus.
Think about that for a moment.
Satan knew that his time was short when he realized that God had put His plan into motion by sending His Son, Jesus. If he lashed out like this because he couldn't kill Jesus as a baby, just think how he will lash out just before Jesus returns to cast him into the abyss. Satan is facing his death walk as a condemned fallen angel. He is not happy and he will not be happy as the time gets closer.
In this life, we have a choice. We can choose to ignore God's gift of grace through the cross or we can accept this wonderful gift of grace. If we choose to ignore it or reject it, we are facing the same impending condemnation as Satan and his fallen angels. Have you ever seen someone who doesn't have any joy and all that they do is lash out? This reminds me of the following.
No Jesus
No peace
Know Jesus
Know peace
As we approach the time that we celebrate the birth of Jesus, I have one simple question.
Do you know Jesus?
Don't let the enemy win!
Copyright 1998 – 2021 Dennis J. Smock
Daily Living Ministries, Inc.
http://www.dailylivingministries.org
Support Daily Living Ministries
Subscribe to daily email delivery
Visit us on facebook