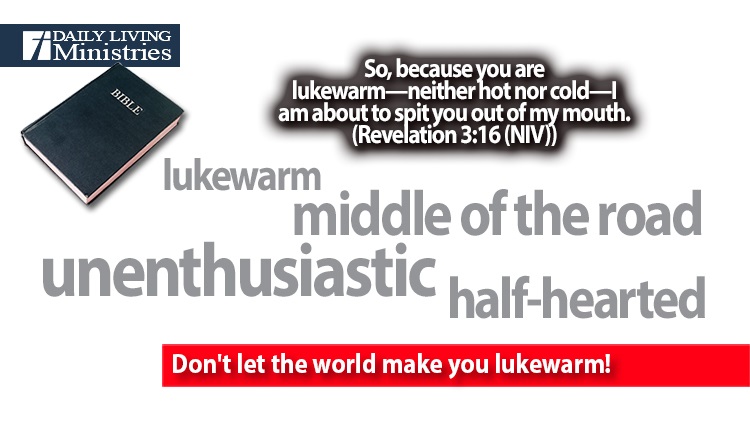 Be Still . . .
Devotionals for Daily Living ©
So, because you are lukewarm—neither hot nor cold—I am about to spit you out of my mouth.
(Revelation 3:16 (NIV))
Hot water has many uses. Cold water has many uses. When you drink coffee or iced tea, if the temperature is not what it should be, you make a face and quickly spit it out.
What if we paraphrased this passage with another term that is used quite often to apply to this concept?
Because you are middle of the road, neither fully committed nor fully opposed to God,…
Another paraphrased example might read like the following.
Because you are unenthusiastic, nether rejoicing or rebelling,…
Does these put this passage into a different perspective? Perhaps we need to add one more phrase to the mix. Lukewarm can also mean half-hearted.
Are you fully committed to the Lord, or is your love for God only half-hearted?
Do you see things in this world that you know go against what is in God's Word and look on it with indifference? Do you accept certain sins as okay because you practice them or because you know someone who does? Do you accept the truth that Jesus came to bring salvation but ignore the fact that He calls us to repentance? There are many more comparative scenarios that I could present, but I think that you grasp the concept. Each of these are examples of being middle of the road, of being lukewarm. We embrace the concepts, but we are afraid to commit because we might offend someone. We go only so far and no further. We make a profession of faith but fail to live our lives the way that we have been instructed to.
Think about this again from the original lukewarm reference. Have we become the cup of hot coffee that is no longer hot? Have we become the glass of cold iced tea that has become warm? We are not living up to our calling. We are not pointing people to Jesus. All that we are doing is occasionally giving lip service to God and thinking that this is enough.
What is enough?
Therefore go and make disciples of all nations, baptizing them in the name of the Father and of the Son and of the Holy Spirit, and teaching them to obey everything I have commanded you.
(Matthew 28:19-20a (NIV))
When was the last time that you lead someone to Jesus?
When was the last time that you baptized someone?
When was the last time that you taught someone, yourself included, to obey everything that Jesus taught?
The more that I understand, the less that I want the Lord to see me as lukewarm. We must take a stand for what is right in the eyes of the Lord. We must be prepared to suffer the consequences in this world when we do take that stand. This world is not our home.
Don't let the world make you lukewarm!
Copyright 1998 – 2021 Dennis J. Smock
Daily Living Ministries, Inc.
http://www.dailylivingministries.org
Support Daily Living Ministries
Subscribe to daily email delivery
Visit us on facebook