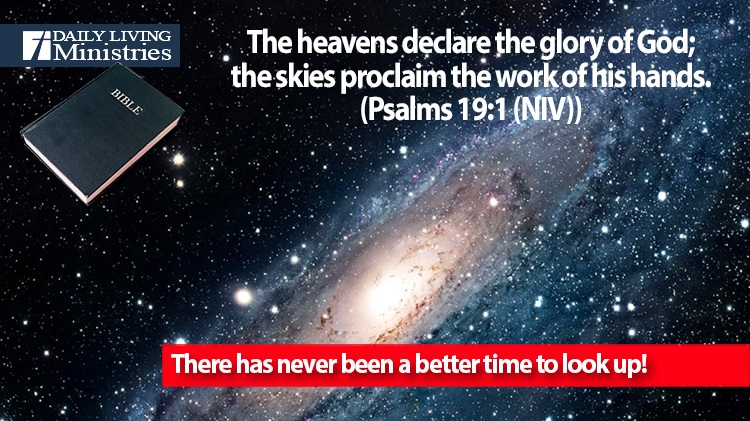 Be Still . . .
Devotionals for Daily Living ©
The heavens declare the glory of God; the skies proclaim the work of his hands.
(Psalms 19:1 (NIV))
When you look up into the night sky, what do you see?
When you gaze at a glorious sunset, what do you see?
You can claim scientific explanations for these and countless other wonders that God has created, and you would be correct. Sadly, too many people stop there and fail to recognize the majesty and the splendor of such things with respect to who created them and why. They simply look upon the heavens as a "big bang" and the glorious sunsets as a result of meteorological phenomenon. We, as the body of believers, know that there is so much more to this than just mere coincidence.
And God said, "Let there be lights in the vault of the sky to separate the day from the night, and let them serve as signs to mark sacred times, and days and years,
(Genesis 1:14 (NIV))
God has planned it that way from the start, but He didn't stop there. He has used the signs to track time, and we still do that to this day. He has even laid out the heavens to provide signs of the end.
There will be signs in the sun, moon and stars.
(Luke 21:25a (NIV))
God's creation is beautiful. Everything that He has created tells of His majesty. He has even planned to display His majesty to give us warning and hope for what is to come.
On the earth, nations will be in anguish and perplexity at the roaring and tossing of the sea. People will faint from terror, apprehensive of what is coming on the world, for the heavenly bodies will be shaken.
(Luke 21:25b-26 (NIV))
It is a matter of perspective. If all that you see is a "big bang," then you are missing out on so much that God has promised. If you rejoice in His creation, then you will see His majesty and the glorious hope that He has given to those who will simply believe. With everything that is going on in the world, keep focused on what God is showing us in the heavens. First and foremost is the fact that He is in control and second is the promises of the soon return of Jesus!
There has never been a better time to look up!
Copyright 1998 – 2021 Dennis J. Smock
Daily Living Ministries, Inc.
http://www.dailylivingministries.org
Support Daily Living Ministries
Subscribe to daily email delivery
Visit us on facebook