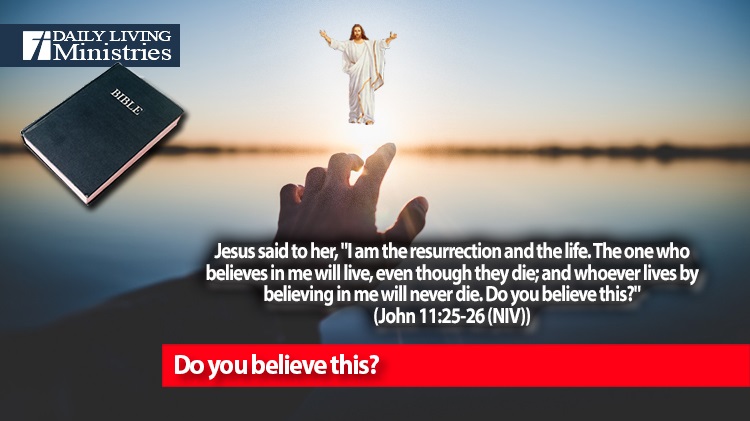 Be Still . . .
Devotionals for Daily Living ©
Jesus said to her, "I am the resurrection and the life. The one who believes in me will live, even though they die; and whoever lives by believing in me will never die. Do you believe this?"
(John 11:25-26 (NIV))
Does this sound too fantastic to be true?
According to the world, it is, but we don't live according to the world. If you profess a faith in Jesus as your personal Lord and Savior, you don't need to live according to the world, either! It all starts with one basic truth that is clearly evident in the world today.
for all have sinned and fall short of the glory of God,
(Romans 3:23 (NIV))
We are all sinners and because of that, we can never be in the presence of God, for He cannot associate with sin. Because of this, we are condemned to an eternity without God. We are condemned to spiritual and physical death.
for the wages of sin is death, but the gift of God is eternal life in Christ Jesus our Lord.
(Romans 6:23 (NIV))
But . . .
Did you notice that word in the middle of Romans 6:23? As humans, we often use this word to indicate that we have an excuse for what we have done. God uses this word to turn the tables on sin and death.
For God so loved the world that he gave his one and only Son, that whoever believes in him shall not perish but have eternal life. For God did not send his Son into the world to condemn the world, but to save the world through him. Whoever believes in him is not condemned, but whoever does not believe stands condemned already because they have not believed in the name of God's one and only Son.
(John 3:16-18 (NIV))
God loves us enough to provide a way out of the consequences of sin and death. It all starts with the ABCs.
A is admit that you are a sinner in need of a Savior.
B is for believe in your heart that Jesus Christ died for your sins, was buried, and that God raised Him from the dead.
C is for call upon the name of the Lord Jesus.
Do you long for life beyond what we know in this sinful, fallen world? Do you long for life in the presence of a just and loving God? Do you long for life without tears and heartache? Now is the time to make that confession of faith before it is too late!
Is Jesus your resurrection and your life?
Do you believe this?
Copyright 1998 – 2022 Dennis J. Smock
Daily Living Ministries, Inc.
https://www.dailylivingministries.org
Support Daily Living Ministries
Subscribe to daily email delivery
Visit us on facebook