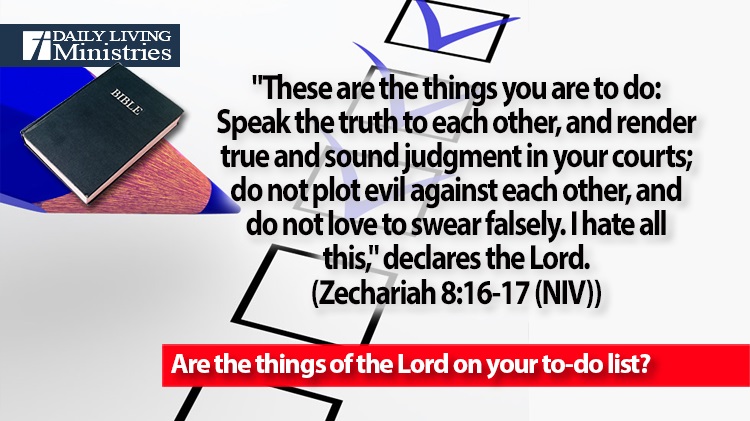 Be Still . . .
Devotionals for Daily Living ©
"These are the things you are to do: Speak the truth to each other, and render true and sound judgment in your courts; do not plot evil against each other, and do not love to swear falsely. I hate all this," declares the Lord.
(Zechariah 8:16-17 (NIV))
How many people make to-do lists? Are you one of them? What do you find yourself putting on these lists? Do you actually accomplish the things that you put on the lists? I realize that this is a lot of questions for what many people consider a simple thing, but did you realize that God has created a few to-do lists for us? God has told us what we are to do many different times in human history, but we have failed each time.
God only had one item on His original to-do list for us and Adam and Eve couldn't do that. We all know the Ten Commandments and probably what stands out most about these is that eight start by telling us what not to do and only two directly tell us what to do. Of all the commandments and the laws that are recorded in the Old Testament, I love what Jesus answered to a question that was probably asked to trick Him.
One of the teachers of the law came and heard them debating. Noticing that Jesus had given them a good answer, he asked him, "Of all the commandments, which is the most important?"
"The most important one," answered Jesus, "is this: 'Hear, O Israel: The Lord our God, the Lord is one. Love the Lord your God with all your heart and with all your soul and with all your mind and with all your strength.' The second is this: 'Love your neighbor as yourself.' There is no commandment greater than these."
(Mark 12:28-31 (NIV))
The whole history of humanity is how God provides instructions on what we are to do and then we fail miserably or go in the opposite direction. Human history would not be complete without those who do try to do what God desires, but we still fail. These simple things that we are asked to do or not do are the things that God calls righteous. When we do not live up to these standards, we have missed the mark. We have sinned.
for all have sinned and fall short of the glory of God,
(Romans 3:23 (NIV))
We are not capable of completing a simple to-do list, but by the grace of God we have been given a way to overcome our shortcomings so that in God's eyes every box is checked.
For God so loved the world that he gave his one and only Son, that whoever believes in him shall not perish but have eternal life.
(John 3:16 (NIV))
Once you check the box next to "Accept Jesus as my personal Lord and Savior," God sees Jesus' righteousness in place of your sin. Once you have made that choice, you will have a daily struggle to check the other boxes with what God desires of us, but the Holy Spirit will guide you. Some days you will check many boxes while other days you will be lucky to check one. No matter the outcome of the day, you must always turn to the Lord and repent of your shortcomings and pray that you can keep your eyes focused on Jesus.
Are the things of the Lord on your to-do list?
Copyright 1998 – 2021 Dennis J. Smock
Daily Living Ministries, Inc.
http://www.dailylivingministries.org
Support Daily Living Ministries
Subscribe to daily email delivery
Visit us on facebook