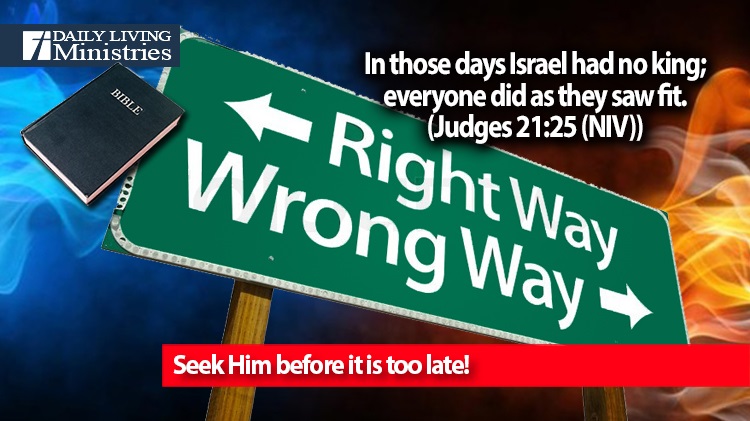 Be Still . . .
Devotionals for Daily Living ©
In those days Israel had no king; everyone did as they saw fit.
(Judges 21:25 (NIV))
It is amazing what people will do when they think that no one is watching, or when they think that nothing they do will get them in trouble. In other words, if there are no consequences, people will do just about anything that they see fit to do!
This passage from Judges tells us that this was the case in Israel, and the events in the world during the last several years tell us that this is the case today. People simply don't believe in any worldly authority. They definitely don't believe in any heavenly authority. If you bring up the subject of God, they simply scoff, or they have their own ideas of what their god is like. Plus, when the laws aren't upheld and people can get away with whatever they choose, people have no consequences for their actions. They follow the old saying that if it feels good, do it. They only care about themselves!
When the sentence for a crime is not quickly carried out, people's hearts are filled with schemes to do wrong.
(Ecclesiastes 8:11 (NIV))
I honestly feel that the situation in the world today is due to the live and let live concept, that there are no absolute right and wrong ways to live. When we praise the person who makes a fortune because they did it their way, we have lost any semblance of moral balance. When we praise the person who stepped all over others to achieve what they wanted, we praise them. Does this sound familiar?
But mark this: There will be terrible times in the last days. People will be lovers of themselves, lovers of money, boastful, proud, abusive, disobedient to their parents, ungrateful, unholy, without love, unforgiving, slanderous, without self-control, brutal, not lovers of the good, treacherous, rash, conceited, lovers of pleasure rather than lovers of God
(2 Timothy 3:1-4 (NIV))
I don't know about you, but these characteristics are all a result of the lack of consequences for wrong actions. During my lifetime, we have increasingly seen the consequences of sparing the rod and spoiling the child. These people have grown up to possess far too many of the characteristics written about by Paul in his letter to Timothy. They do not fear any repercussions, any consequences for anything that they do.
Do you fear the Lord? Do you understand that your sinful nature has consequences? On a side note, when people simply cannot understand consequences, I shake my head in disbelief. I have heard of too many people complaining about suffering from something like lung cancer even though they profess a faith in Jesus. We are forgiven the spiritual consequences of our sins, but we still live in a sinful, fallen world and the physical consequences still apply. No one makes it out of this world alive physically! As believers, we have eternal life, but that is not in these physical bodies that have been destroyed by sin. It is the sin that destroys. It is the lack of consequences that destroys.
If you have professed a faith in Jesus as your personal Lord and Savior, then you understand consequences. You understand that this life is fleeting and your only hope is in Jesus.
Seek the LORD while he may be found; call on him while he is near.
(Isaiah 55:6 (NIV))
Seek Him before it is too late!
Copyright 1998 – 2022 Dennis J. Smock
Daily Living Ministries, Inc.
https://www.dailylivingministries.org
Support Daily Living Ministries
Subscribe to daily email delivery
Visit us on facebook